We were inspired by a new documentary and book about the (almost) lost art of sign painting to create our own tribute to the craft of hand lettering.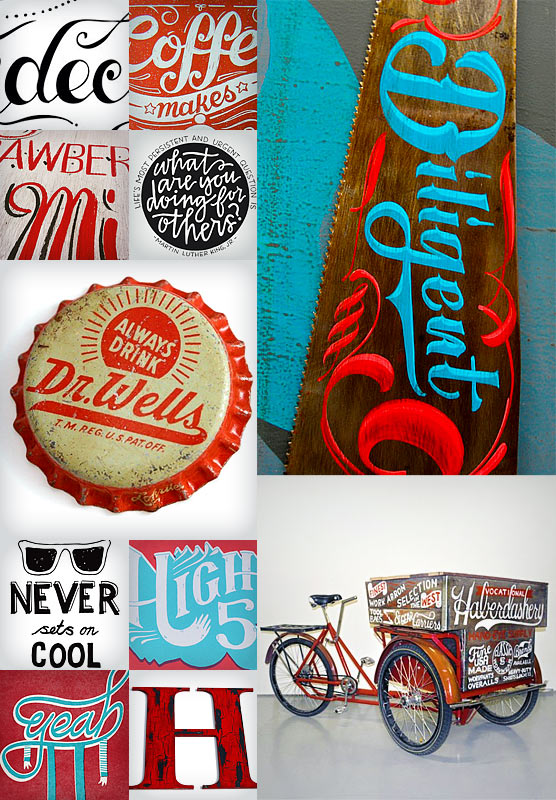 • Kenji Nakayama creates Sign Paintings on antique saws, continuing the fluid shape of the ornate handles into colorful hand-lettered messages.
• Mary Kate McDevitt's Haberdashery Bicycle takes vintage transportation to another level with a hand-lettered wooden front that recalls early 20th century signage. Take a look at more of her lettering and illustrations, like this High 5 silk screened print guaranteed to brighten your day.
• This Bottle Cap comes from a Dr. Wells soda bottle first introduced in 1935.
• Rachel's Print is a hand-drawn cursive illustration perfect for those who can't make decisions.
• Alexandra Snowdon's Print illustrates one of life's unequivocal truths – that coffee makes everything possible – in metallic copper ink.
• Tess Barber's Hand-Painted Sign points the way to strawberries in loose, red script on white wood.
• Emily Poe-Crawford's Print is a hand-lettered interpretation of one of Martin Luther King Jr.'s most memorable quotations.
• Emma Miller's Print is for those people who never take off their sunglasses, even after it gets dark.
• Juanjo López's Print spells out Yeah! with the whimsical addition of arms and legs.
• Sara Wright's Block Print reminds you – don't mess this up! – in turquoise ink.