This is what the kind of view we want to see when we wake up.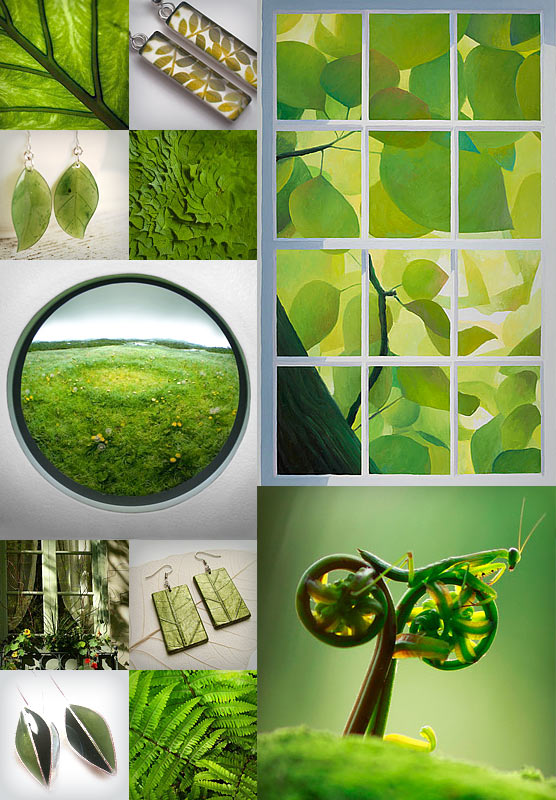 • Cynthia Daignault's Any window, any morning, any evening, any day depicts the catalpa tree outside her childhood bedroom's window. At the same time, the title suggests a cheeky take on the ever-popular subject of light through leaves.
• Patrick Jacobs' Diorama is a tiny portal embedded in a gallery wall with lenses that magnify lush green fields stretching out for miles.
• Tustel Ico's Grasshopper sits comfortably on his bike made of two fiddleheads.
• Glennis' Leaf Detail captures the watercolor green webbing of a palm.
• June Hunter's Earrings frames fern leaves in long rectangular pieces of clear resin.
• Jade Peony's Earrings are leaves carved out of nephrite jade and set in sterling silver.
• Silk Spingies' Lime Leaves are arranged in a tight cluster.
• Donna's East photograph of a Lower East Side Building captures the shadow of a tree intersecting a mint green window.
• Sara's Earrings are cast from a real hydrangea leaf in recycled aluminum and painted a shimmering green.
• Michal Shabtai's Earrings are olive tree leaves made of two toned green resin and sterling silver.
• Jeffrey Hull's photograph of Verdant Ferns is a labyrinth of green leaves in Oregon.