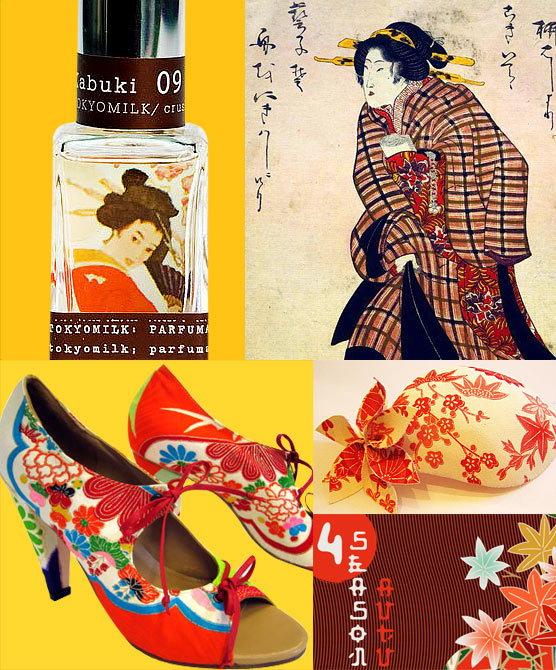 Before modern advertisements and models, bijinga set the tone for what was most fashionable in Edo period Japan. Utagawa Kunisada's series The Hours of the Yoshiwara (1818) shows a glimpse of glamour in the red-light district. Utagawa Kuniyasu's Geisha in Hurry depicts the moment just before she enters the pleasure quarters, literally floating between spaces in Ukiyo (the "Floating World"). Who were these women and where were they going? Bijinga, a type of ukiyo-e that depicted beautiful women, were a little bit mysterious and filled with luscious detail. You might not have wanted to go to Yoshiwara, but you definitely wanted a kimono in that shade of green.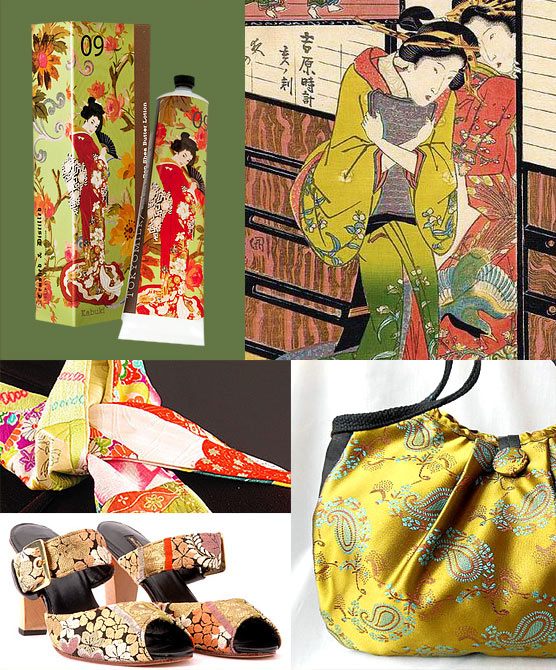 Anais and Kaiko by Hetty Rose are custom made from vintage kimono fabric. All modern Geisha's should have at least one pair. Learn more about how Hetty crafts her shoes.
Set the scene for a Kabuki performance with TokyoMilk's No.9, which combines sweet notes of grapefruit, lychee, and jasmine. Mix it with the matching lotion made from shea butter, green tea, mimosa bark, and dandelion.
1920s flapper meets 18th century geisha in Emily Holmes' Cocktail Hat made from vintage kimono fabric.
This Autumn tea blend will make your evenings sweeter with chestnut, vanilla, and caramel. Be sure to sample all of the blends from the 4 Seasons series.
Charles Goodwin expertly mixes different kimono patterns in his Color Band scarf. Who needs an ordinary printed scarf when you can have one made from kimonos?
The Paisley Party Bag by Yasuko brings back the glowing chartreuse that you see in many ukiyo-e prints. Don't miss the calligraphy of Yasuko's mother Kae.