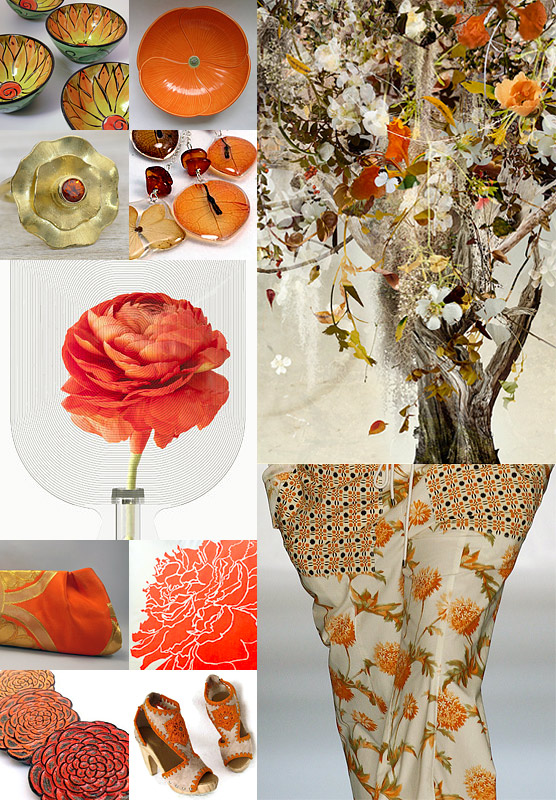 • Ysabel Lemay's Transmitter is a fantastical explosion of blooms composed by digitally fusing hundreds of individual photographs. Ysabel draws on her experience as a painter to work with the images and details as if she were painting with a brush.
• Charlie Guda's Big Bloom project is a series of vases made of test tube beakers connected to lenses that magnify each flower. The lens is based on the Frensel model, developed in the seventeenth century to improve lenses used in a lighthouse. Now you can have your very own Dutch still life with a more minimal frame.
• The Suno Spring 2013 Collection combined muted florals with calico-inspired patterns.
• Karen's Majolica Bowl Set features a vibrant yellow lotus and green leaves on the outer surface.
• Whitney's Poppy Bowl has orange petals curving around a ceramic "pod" in the center.
• Lilia's Flower Ring frames an orange garnet stone with yellow gold petals.
• These Earrings by Petal Connection, a mother and daughter team from California, preserve real bougainvillea and hydrangea petals in resin.
• Kazumi's Anissa Clutch is made from orange and gold obi fabric and lined with a brightly colored kimono.
• Lauren and Sammy's Linen Pillow Cover has a bold orange peony hand-printed on an ivory background.
• This Necklace by Block Party Press lines up four chrysanthemum blossoms in shades of red and orange.
• Karen's Shoes are handmade with crocheted patterns stitched into beige suede.