We've taken some liberties with how we serve our summer salad.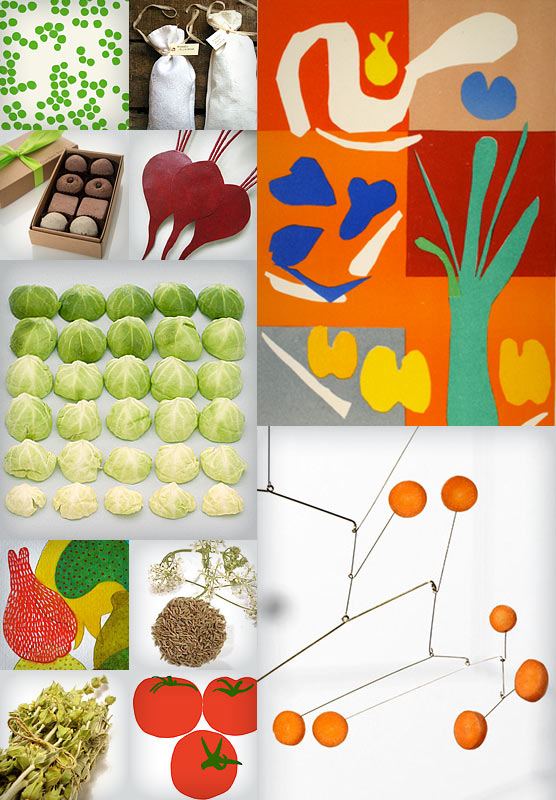 • Henri Matisse's Végétaux boils down a plate of vegetables in a few paper cut outs that float between recognizable forms and abstract elements. Here Matisse is at his most direct, the culmination of his ever-loosening body of work. But compare it with Le bonheur de vivre – they look remarkably similar. The bodies start to look vegetal and the vegetables have a human quality.
• Carl and Evelina Kleiner's Homage to Calder series is a playful take on his kinetic mobiles, with foods like carrot slices, marshmallows, and popcorn.
• Florent Tanet's Colorful Winter series organizes fruits and vegetables by height, color, and texture. Who doesn't like tonally arranged brussels sprouts?
• Jorey's Peas and Pico de Gallo follow in Matisse's footsteps with flat compositions of fresh ingredients.
• Jenny O'Connor's Sachets are filled with organic dried herbs harvested at the Kirk Estate in Upstate New York.
• Anne Dowell's Garden Bon Bons look like chocolates but they're filled with herb seeds, compost, and clay.
• John and Robbyn Runyon's Beets are hand-cut, filed and hammered from recycled metal so you can hang the bunch on your kitchen wall.
• Rhonda Turnbough's Carrot Gossip is an abstract composition of colorful, overlapping forms inspired by plants and people.
• Erika's Cumin has a nutty, peppery flavor perfect for chilis and curries.
• Annouk's Sideritis is an herb collected on Olympus mountain and meant to be infused in tea – a true drink of the gods.