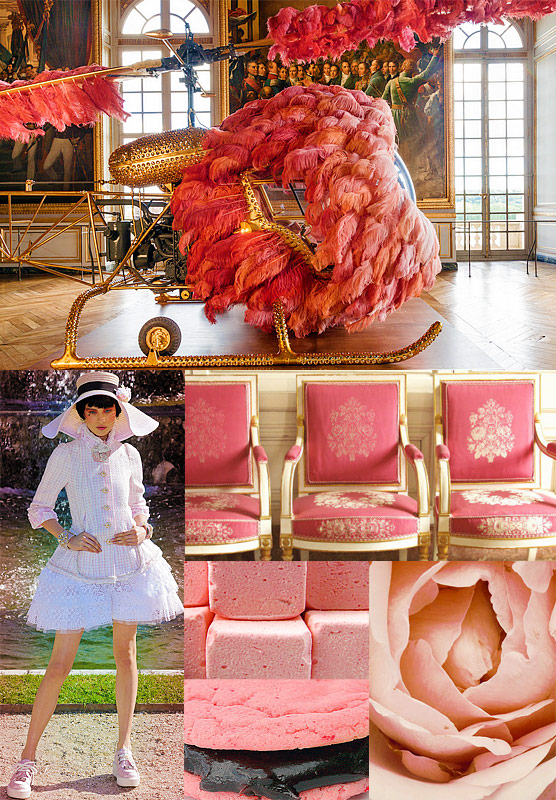 • A helicopter covered in pink ostrich feathers, Swarovski crystals, and gold leaf? Sitting pretty in the palace of Versailles? Marie Antoinette would be proud. After all, the sumptuous interior is embroidered with her monogram. Joana Vasconcelos's Lilicoptère is one of several installations she created for Versailles this summer. In a way, Marie Antoinette tried to fly her own pink feather helicopter. She made Versailles the playground of her extravagant fantasies, with other French aristocrats as her fellow performers. She crashed and burned, but the remnants created our perceptions of high fashion, glamour, style, and sophistication. For the long story of how that happened, take a look at this book.
• Louis XIV set the high fashion game in motion, and it returned to its birthplace with the Chanel 2013 Resort Collection. The show took place at Versailles, closed but to the exclusive group who witnessed the punk-Rococo narrative. It's been three hundred years and we still can't get enough.
• Escape Versailles with Jessica and Holly's Blush Hush, taken inside the Petit Trianon.
• Cheri's Strawberry Marshmallows is the perfect decadent-yet-light treat.
• These Cookie-Witches by Tookies sandwich chocolate ganache between two strawberry-flavored cookies.
• Mable's French Rose gets its creamy pink petals from the gardens of Versailles.