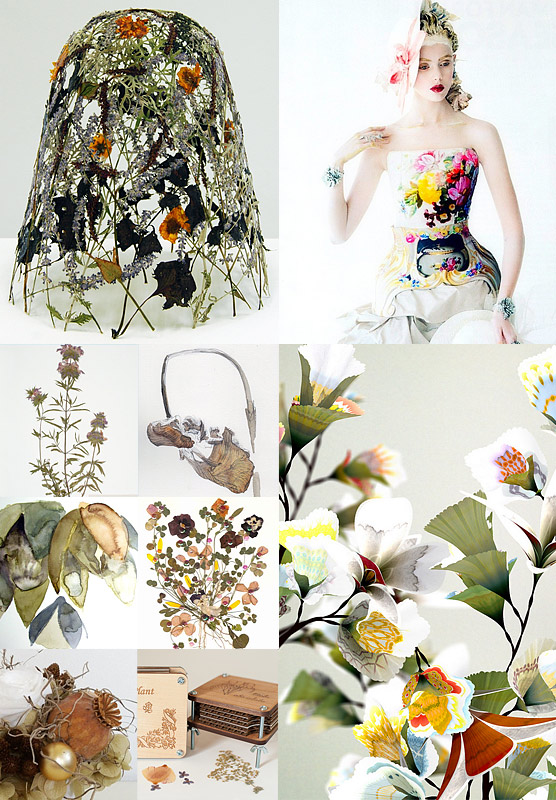 • Daniel Brown's Decode is a digital bouquet of flowers displayed as a three-story high projection in the atrium of the Victoria & Albert Museum. The patterns on the petals bear the imprint of images from the museum's collection, including William Morris textiles and Kimono fabrics.
• This Vogue editorial is a decorative porcelain vase in human form.
• In his Fragility of Time series, Spanish artist Ignacio Canales Aracil brings the art of pressed flowers out of grandma's scrapbook and into contemporary sculpture. After the flowers press and dry out for a month, each structure is held up by the flowers and stems alone. Imagine having tea under one of these flower domes.
• Shirley's Plains Horsemint was collected in Texas Hill Country, dried, and mounted on high-quality archival paper.
• Oona's Dead Tulip is a watercolor and pencil drawing that plays with the relationship between line and light.
• May's Dried Chrysanthemum layers washes of moss green, copper, and pale violet watercolor.
• Luli's Floral Collage is an eclectic bouquet of pressed flowers, leaves, sequins, lace, and feathers.
• Jolanda's Holiday Floral Arrangement combines preserved white roses, hydrangeas, dried poppy pods, and gold ornaments for the perfect centerpiece that lasts the whole season.
• This Plant Press by AK Laser allows you to press your own plants in a stylish kit made from maple wood.