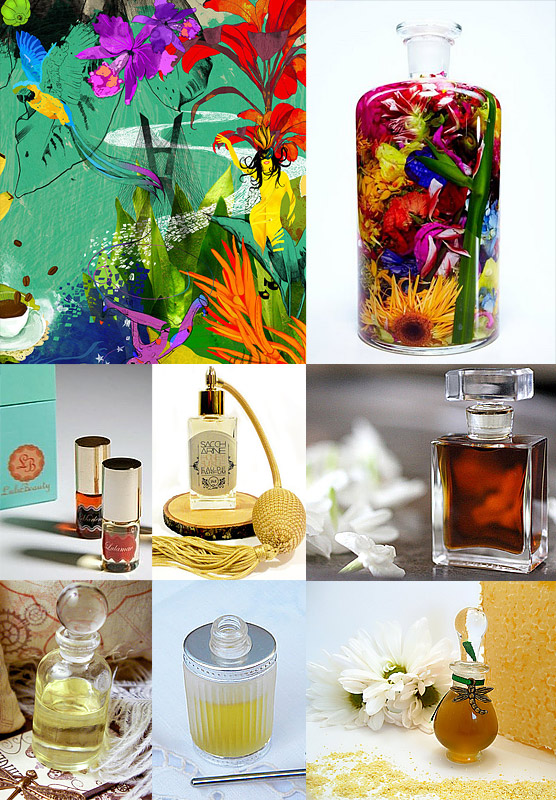 • Makoto Azuma's Bottle Flower series takes the art of perfume literally, with flowers condensed into glass bottles.
• Lynn Olofsdotter's Brasil is a digital illustration celebrating all the best things in the world: tropical flora, Carnaval, and coffee.
• Julie's Lulu Beauty Sampler includes seven different sophisticated floral scents.
• Elissa's Custom Perfume is made according to your choice of the dominant scent, initials on the label, and style of atomizer.
• Roxana's Chiaroscuro was inspired by tonal contrast in Italian painting, and combines sweet jasmine with darker notes of myrtle and spice. All of her perfumes are made from organic, purely botanical ingredients.
• Amanda's For the Love of Bees recreates the warm scent of honey with a blend of vanilla, ylang ylang, honeysuckle, and other golden notes.
• Raquel's Alchemist's Bottle holds your choice of perfume, from a range of fifty-eight blends with mysterious names like Sweet Absinthe, Blackwood Cello, and Voodoo.
• Jane's Bronte Perfume & Body Oil channels the romantic drama of Wuthering Heights and Jane Eyre with a complex blend of amber, Turkish rose, and bergamot.