When your flowers start to melt, are you hallucinating?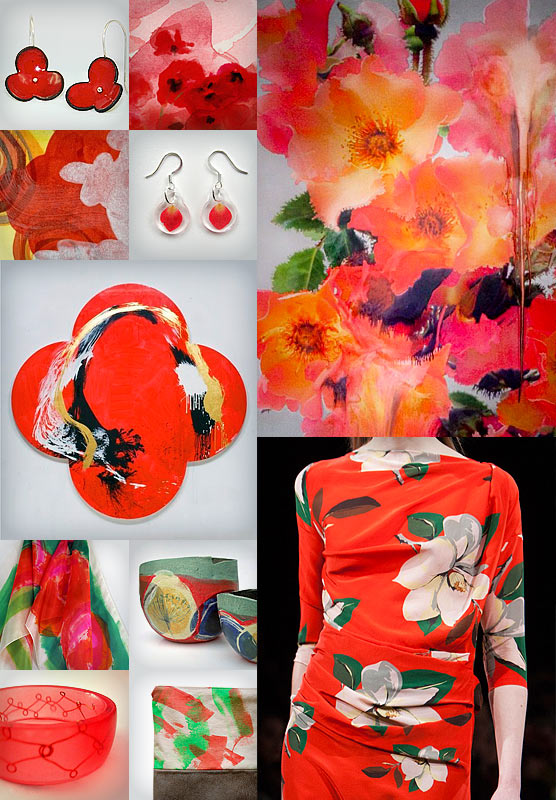 • Nick Knight's Flora series includes still lifes of roses that appear to be melting as the petals bleed into one another. He spent three years sorting through the six million plant specimens in the Natural History Museum's herbarium, selecting and photographing floral compositions only to mess with their precise forms. The painterly effect is the result of a unique method of manipulating heat and water during printing process. Night's work follows in the footsteps of 17th century Dutch vanitas still lifes, which depict luxurious arrangements with symbolic reminders of their impermanence. Here, the decay is more palpable in the petals, as if it were happening before your eyes.
• Max Gimblett's Painted Moon is a quatrefoil shaped canvas splattered with gold leaf.
• The Vivienne Westwood Anglomania Fall 2013 Collection included magnolia prints as a nod to the Covent Garden Flower Market.
• These Earrings by Small Joys Studio are small red enamel flowers lined in black.
• Irena Orlov's Poppies blend together in a field of watercolor layers.
• Claire Jauregui's Radiate depicts clouds and machine cogs in sunset colors.
• Enchanted Planet's Earrings suspend real pressed rose petals in clear lucite.
• Klara's Scarf is hand painted with a red flower in a vase against a green background.
• Mollie Brotherton's Bowls are covered with a harvest inspired by summer in the south of France.
• Topaz Turtle's Bangle is made of red-orange resin embedded with loops of copper wire.
• Dikla Levi Harel's Clutch contrasts leather with brightly colored canvas.