Meticulously, motionlessly, secretly, he wrought in time his lofty, invisible labyrinth.
- Jorge Luis Borges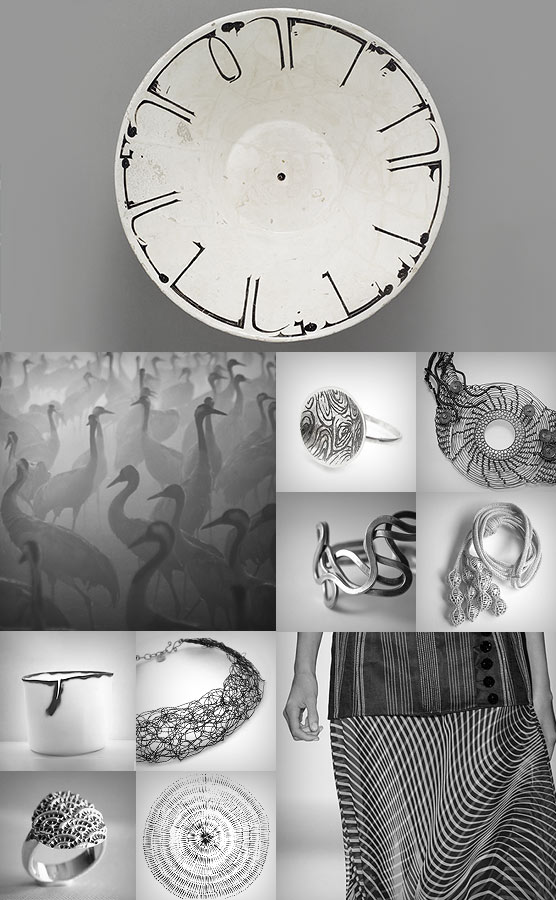 Bowl, 10th century, Samarqand; Photo by Guy Cohen; Fashion by Carolina Herrera
Handmade items to buy (clockwise): Ring by Leander D'Ambrosia; Necklace by Ksemi; Necklace by Birken Knits; Bracelet by Sid Kassidy; Vase by Manos; Necklace by Hypho; Monks by Manjuzaka; Ring by Monica Hirsch
1) The peach, split, drips down my thigh, wandering through the thin layer of dust built during the hours I spent next to the open window of a train snatching particles of sandstone on its way through a landscape startled out of sameness only by the station surrounded by crates of overripe peaches.
2) The lotus root dips its parched skin in pale grey water and dissolves, now into ink flowing from the pen of a madman, now a Roman widow weeping, now oil spilling poisonous tendrils from a ship, before coming back up for air as a lotus root.
3) The cinnamon I tap into the bottom of my cup before pouring on coffee resurfaces, after a few sips, just below the inner rim; I wipe it with my finger and reach for the pot to pour a few more sips of coffee, hold the cinnamon.
4) The eyebrow of a man in Alicante invites me to follow the melody of six hands poised in a gesture of relaxed intimacy, but as I try to find evidence of touch, the points of contact, fingertips on palms, palms through coarse hair, remain elusive, dissolving into habits that, to passing strangers, appear as abstractions anchored by an eyebrow.
5) The bicycle wheel, wet with the last drops of my ice water, rolls through the gas station and leaves a mark that mimics cracks in the pavement before it falls, the sun erases its brief, glistening flirtation, and I roll it back into the shadows harboring a pile of other, useless wheels.