Me, change! Me, alter!
Then I will, when on the Everlasting Hill
A Smaller Purple grows -
At sunset, or a lesser glow
Flickers upon Cordillera -
At Day's superior close!
– Emily Dickinson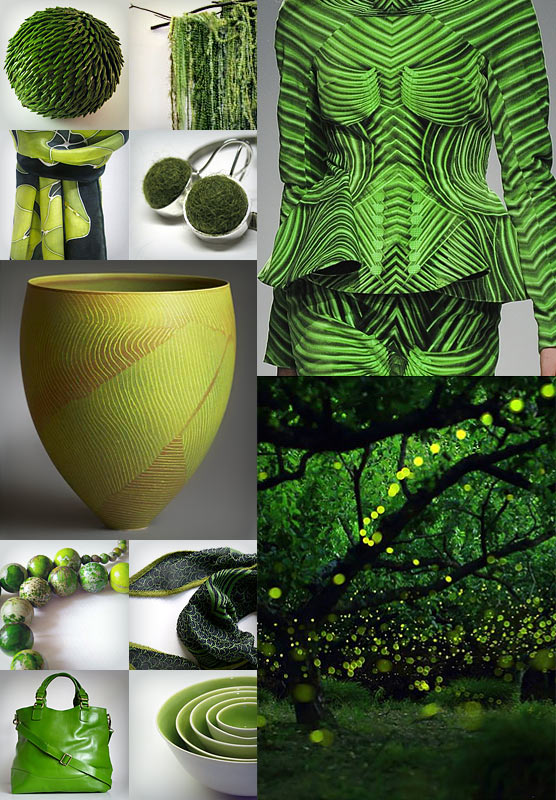 • Yume Cyan's long exposure photographs of Fireflies in the forests around Nagoya City capture the traces of their bioluminescence as if they all lit up in synchrony. Reminds you of a fairy tale forest, doesn't it?
• Pippin Drysdale's Tanami Traces evokes the curving veins of leaves, rivers, and sand dunes found in the Australian landscape. Take a look at the complex process of creating these seemingly effortless surfaces.
• The Manish Arora Fall 2013 Collection included several neon green pieces that resembled insect armor, complete with a muti-focal black masks.
• Janice Bauer's Jar is a ball of green fur, hand-built one clay hair at a time.
• Forest Lady's Glorious Greens is a wall hanging made of green yarns in various shades, textures, and lengths.
• Cheryl Frances Cameron's Scarf is crepe silk hand painted with a pattern of lime green moonflowers on a dark green background.
• Annie Lesperance's Earrings set green felt wool in sterling silver bezel like little patches of green grass.
• Perle's Necklace strings together green jasper stones with uniquely marbled surfaces.
• Cinne Worthington's Silk Scarf is printed with an emerald green pattern reminiscent of stylized seaweed.
• Beckie Sims' Handbag is made of luscious, kelly green leather and lined with floral print fabric.
• Erin Kathleen Donohue's Nesting Bowls are white on the outside and light lime green on the inside.