We love traditional Japanese textiles, but after investigating the field further we found some contemporary artists who are reinventing the craft in unique ways.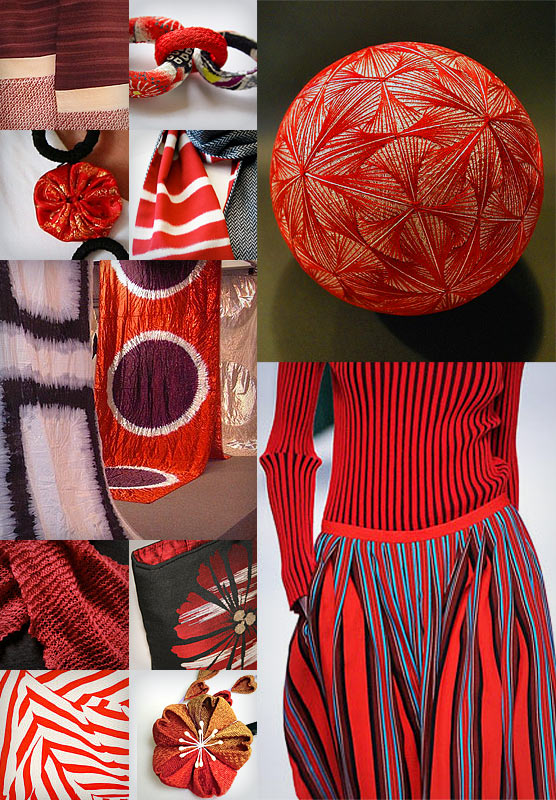 • This Temari is one example of the traditional Japanese craft of embroidered balls, each one more intricate and inventive than the next. They were originally toys made from kimono scraps, but now they stand alone as art objects.
• Junichi Arai's Cloths are floor-to-ceiling sculptures that combine traditional Japanese weaving techniques with new materials like plastics and aluminums, which give his fabrics a lightness and sheen that surpasses natural fibers. He experiments with varying the texture on a single cloth and can weave completely different patterns on each side of one sheet. The cascading sculptures transcend fabric to become as intense as liquid lava or as subtle as moonlight.
• Arai has worked with several fashion designers, including Issey Miyake. The Issey Miyake Fall 2013 Collection echoed Arai's playful attitude towards prints by creating optical illusions out of traditional tartans and stripes.
• This Silk Scarf is composed of three vintage Japanese kimono in a cream and burgundy palette.
• Marisa's Earrings suspends one link of a chain wrapped in kimono fabric.
• Eleanna's Necklace is made of red and black circles wrapped in cotton, with a silk flower in between.
• This Scarf by Wabi Sabi Wasabi combines a red and white kimono fabric on one side and a herringbone wool on the other.
• Lyndell's Scarf is knit from cherry red Japanese yarn and a silk-wrapped stainless steel thread that allows the fabric to hold its frills.
• Christine's Bag has a red flower made from vintage kimono covering its back surface.
• This Fukushi by Link x Lucinda Newton Dunn is wrapping cloth printed with stripes that mimic already wrapped cloth.
• This Hair Clip by Polished Kanzashi has a flower made of chirimen crepe in warm sunset colors.