Tonight we're serving a feast of summer fruits and exotic spices.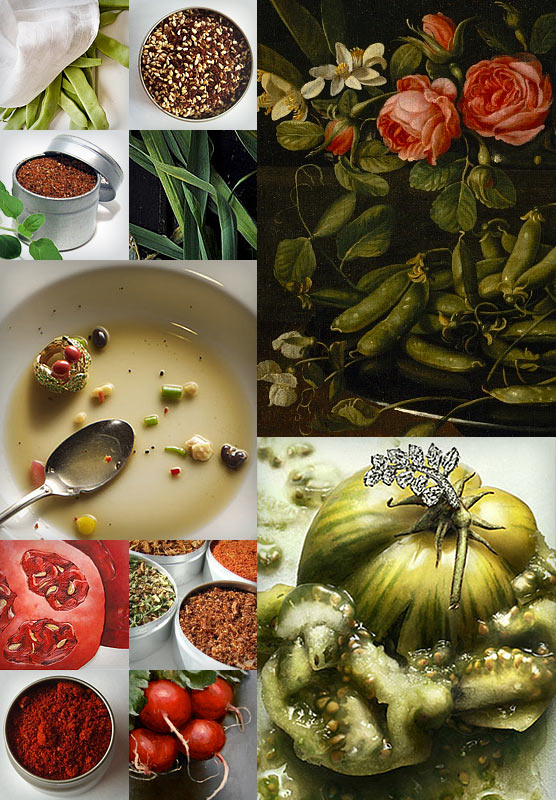 • Peter Lippmann's Forbidden Fruits and Assiettes series display jewels among the remnants of half-finished fruit and fancy dishes. The hard surface of diamonds stands out against the juicy flesh of a tomato, but the two have a complementary lusciousness that evokes the glamour of fine dining. Lippman's work echoes 17th century Dutch still lifes, which often depict the remnants of an expensive meal.
• This Still Life by an unknown 17th century French painter captures the bounty of summer at its peak – strawberries, asparagus, artichoke, snap peas, and roses.
• Aya Wind's Green Beans peek out from delicately folded white towel. Her Dark Winter Roots displays kohlrabi and beets from their roots to their leaves.
• Melissa's Za'atar is a blend of organic sesame seeds, sumac, salt, and oregano perfect for seasoning your own flatbread. Her Harissa is a deep red mix of Aleppo pepper, paprika, cumin, and other smokey spices.
• James Jams' Super Cumin Spice Rub Blend combines cumin with thyme and parsley for a zesty finish to tacos or meats.
• Cathy Savels' Tomato Slices layers one painted slice with another cast in plaster and filled with string.
• These BBQ Blends are six different rubs based on the Southwestern and Mexican flavors.
• Frank Krifka's Radishes is a realistic depiction of the tiny bunches that appear in early summer.