Solid gold is too tacky. Just a touch will suffice.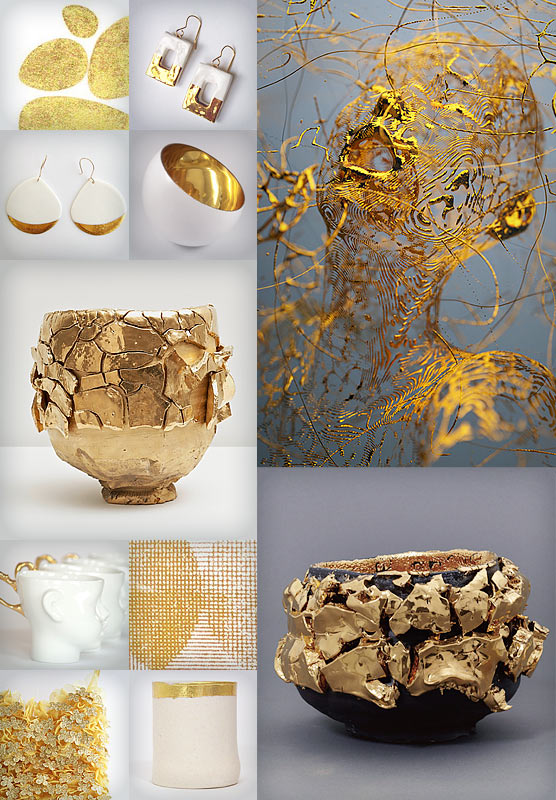 • Adam Martinakis' Golden Boy is barely held together by veins of gold, like Midas caught in the agony of his own power.
• Takuro Kuwata's Future-Rustic Vessels are a modern interpretation of the kairagi method of glazing, which allows the cracked surface to show the clay underneath. Kairagi is one of several methods in the tradition of Japanese pottery used to create a deliberately irregular, imperfect surface, all in the name of wabi. While his predecessors tried to make the cracks look accidental or worn by time, Kuwata emphasizes the bold, sculptural nature of his mountainous surfaces.
• Laura DiMeo's Egg Family is a cluster of eggs made out of shimmering gold leaf.
• Tania Cisarikova's Earrings are small frames with gold and white glazes meeting half way.
• Kahina's Anaïs Earrings are porcelain shells dipped in gold.
• Jan Maitland's Bowl is made of blown glass painted white on the outside and gilded on the inside.
• Natalia Gruszecka's Cups are made of white porcelain in the shape of doll's heads.
• Phillip Sachs' Abstract Circles is a mesmerizing screen print of interlocking gold ink circles, framed by rustic barn wood.
• Mariko Ishikawa's Fly Me To The Moon is a dress for the fairies, made of glitter paper blossoms nestled in golden paper ruffles.
• Daniella Lekach's Votive is made of cream-colored porcelain with a band of gold lining the rim.