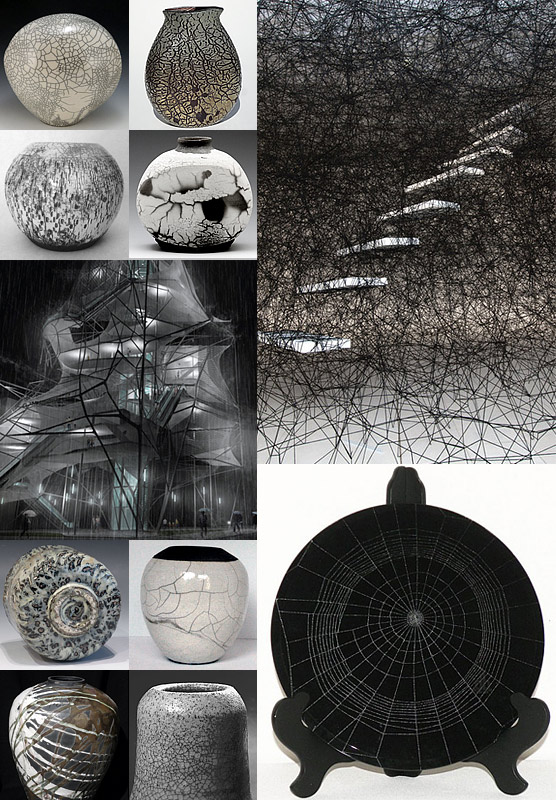 • Chiharu Shiota's Infinity installation covered the gallery space with 12.5 miles of black yarn. In this video, you can see how she handles the yarn in a methodical way, a kind of large-scale knitting. The result is otherworldly, as if you stumbled into a fantastical forest of tangled branches and glimmering lights.
• Imagine living in this Skyscraper, which mimics a spiderweb with several layers of fiber-laced concrete and steel mesh to allow the structure to move and breathe according to the elements.
• Have you ever noticed spider web caught in the light and wished you could see the whole thing more clearly? Emil Fiore takes real webs, places them on to Black Plates, and sprays them with aluminum paint to capture the entire intricate design.
• Eric's Raku Vase displays a network of black crackle marks on its ivory surface.
• Jeff's Glass Vase is made using the crackle glass technique, which involves submerging the hot hand-blown glass in cold water so that the outer layer cracks. Watch the process here.
• Laura's Raku Vase has a rich, textured surface of cracks and imprints.
• Deborah and Jim's Raku Pot has an unusual shape and pattern that resembles ink dissolving in water.
• George's Yunomi has a dynamic, swirling mixture of brown, black, and green-blue glazes.
• Ralph Perri's Raku Vase has a delicate white crackle and black interior.
• Lawrence's Ikebana Vase has a crackled surface stained with Sumi ink.