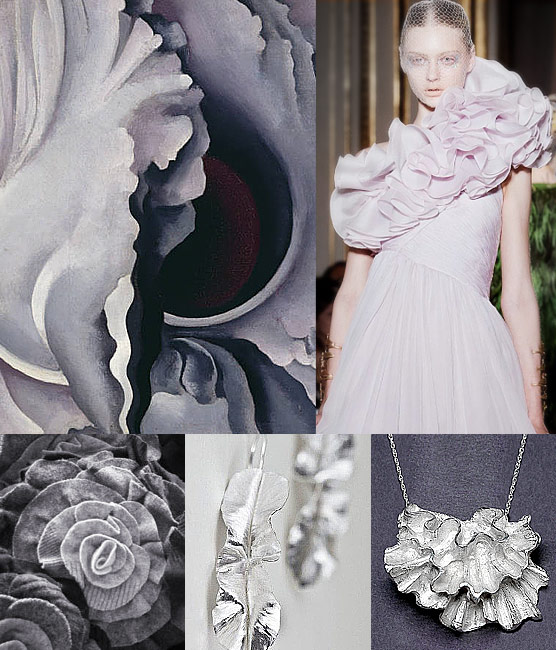 • If you take a flower in your hand and really look at it, it's your world for a moment. Georgia O'Keeffe
• Giambattista Valli's Fall 2012 Couture collection reinvents extravagant, aristocratic ruffles in organic folds.
• Create your own monochrome garden with Eisman Design's Ruffle Rose Pillows, made from light gray to charcoal wool.
• Eko Wright's Sea Grass Earrings create organic folds from sheets of sterling silver.
• Amie Plante's Carved Ruffle Pendant solidifies ocean waves in sterling silver.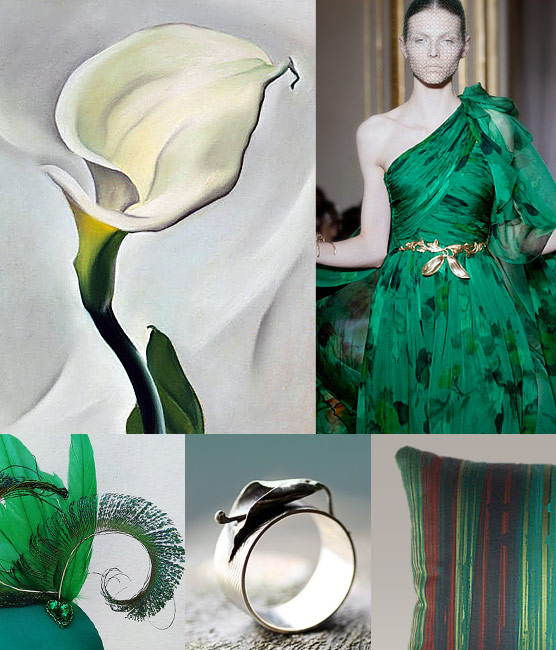 • Georgia O'Keeffe's Calla Lily and Black Iris could be rolling hills or curved canyons. O'Keeffe painted flowers as abstract symbols, motifs rather than faithful representations. She stripped them of precise detail and analyzed the forms as though she looked at the plants for the first time. Her paintings of the rugged New Mexico landscape bear a strong resemblance to her depictions of delicate petals.
• Giambattista Valli's Fall 2012 Couture collection includes gilded branches gripping ethereal fabric.
• The Peacock Feather Fascinator by Satanica Batcakes (what a name!) makes a bold statement with green coquille and peacock feathers.
• Laura Treloar's Calla Lily Ring wraps the flower shape around a subtle wave pattern.
• Dana McClure's Emerald Striped Pillow is part of a collection of pillows made by a unique printing process: five films of varying line weights applied with random transparency, frequency, and order.