Here are some of the most creative ways of turning easter eggs into works of art.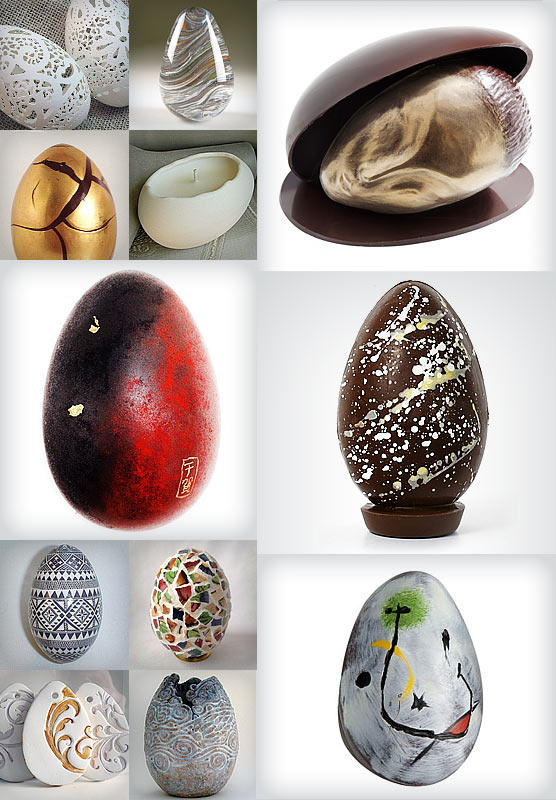 • These Easter Eggs are more than decorative – each one is a canvas for the splatters of Jackson Pollock, curves of Brancusi, and surreal scribbles of Miró. One egg even mimics the crackled surface of raku ware with a deep red gradient.
• Aga's Goose Eggs are carved with an intricate pattern inspired by fine lace and richelieu cutwork.
• Carrie and Dean Wolf's Paperweight is a blown glass egg with a kaleidoscopic surface reminiscent of swirling cosmic dust.
• Larry Lubow's Ceramic Egg has burgundy cracks in its golden shell.
• Michele Dugree's Votives fill an egg-shaped porcelain cup with unscented wax.
• Barbara Novak's Goose Pysanky has a Delftware-inspired pattern of blue and white geometric patterns.
• Joanna's Easter Egg is covered in a mosaic of colorful ceramic cup fragments over white sanded grout.
• Nic's Easter Eggs are imprinted with a French decorative flourish painted in gold.
• Maryjane's Vase is built up from coils that make a wave-like pattern on the surface, culminating in the crest that forms the rim.