Counting down to Earth Day on April 22, we're dedicating the next few posts to art that gives new life to discarded objects and promotes a greener approach to living. This post focuses on transforming recycled plastic into colorful installations and everyday goods.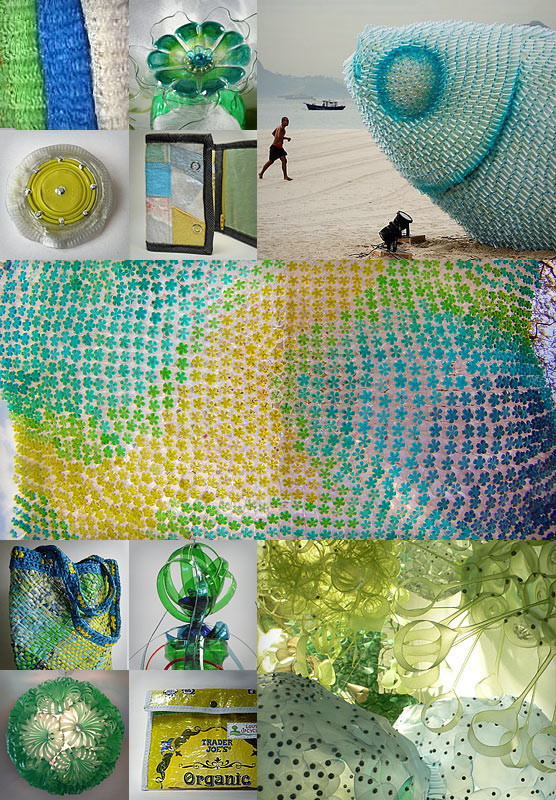 • For the 2012 Rio+20 conference on sustainable development, these Fish Sculptures emerged out of the sands of Botafogo beach in Rio. At night, neon lights illuminated the scales made out of recycled plastic bottles.
• Garth Britzman's Canopy looks like a floating meadow of tiny blossoms, which are really plastic bottles filled with colored water.
• Aurora Robson's Jungle is a booth containing fantastical green blobs emerging from the unknown corners of the deep sea. Watch her talk about another one of her installations in this video.
• These iPad Covers are made by the Green Village Zero Rubbish Project, started in Oruip, Bihar, a small village on the banks of the Ganges. The women who make these crafts use rope made of discarded plastic bags and candy wrappers.
• Leanne's Napkin Rings are made from discarded plastic bottles to mimic delicate blown glass.
• Egle Adomelyte's Brooch embellishes green and silver bottle lids with faceted silver studs.
• Pera Virens' Wallet is covered with a pastel-colored collage of discarded plastic bags.
• Laura Haines-Gavett's Tote is woven from plastic bags in bright blue, green, and yellow.
• Laura Nickerson's Hanging Sculpture looks like an exotic flower made out of recycled plastic fragments.
• Sarah Turner's Ceiling Lamp is made of discarded Coca Cola bottles that are cut, dyed, and sculpted into floral clusters.
• Lou Leelyn's Pouch are made from un-recyclable plastic wrappers quilted onto fabric.