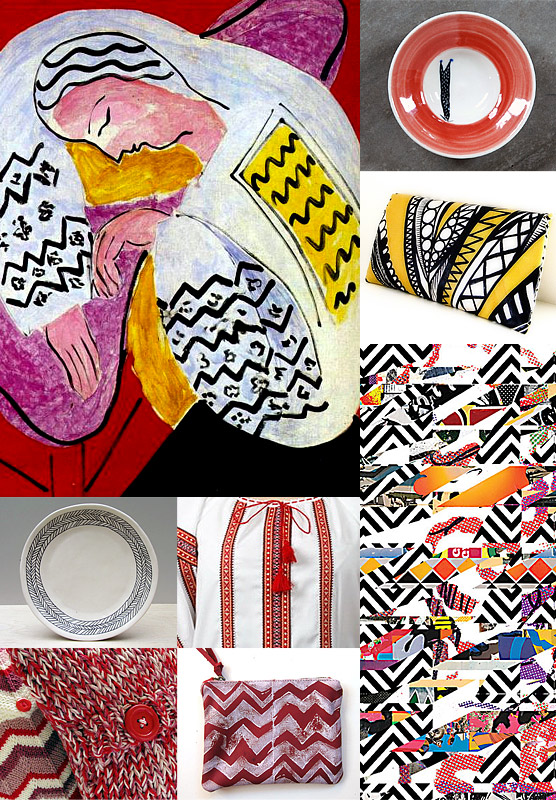 • The simple, streamlined composition of The Dream gives the impression that Matisse finished the painting in one sitting. In fact, Matisse made fourteen preliminary studies, with each new version shaking off a little more convention. These studies, along with the final work, are displayed in the newest exhibit at the Met: In Search of True Painting. One can trace how Matisse was set on the curvature of the arm and neck from the beginning, but he struggled with the background. The first sketch shows the woman surrounded by foliage, and each subsequent version reduces the number of leaves until the final leap into a dreamlike field of color. It seems as though Matisse didn't want to depict a woman dreaming, but give the painting itself the quality of a dream.
• Paula's Small Bowls have brightly colored insides and whimsical drawings.
• Sarah's Leather Clutch is hand painted with a dynamic pattern of black, white, and mustard yellow geometric strips.
• These Collages by Madame Gilles resemble the walls of public buildings with exposed layers of peeling advertisements.
• Elizabeth's Dinner Plate has a classic herringbone pattern running around its inner rim.
• Svetlana's Blouse has traditional Ukranian embroidery in red, blue, or brown.
• Karen's Cushion Covers combine red, white, and dusty pink in two patterns, a retro chevron and an extreme knit.
• Abigail's Clutch has a messy white zig zag block-printed onto its leather surface.