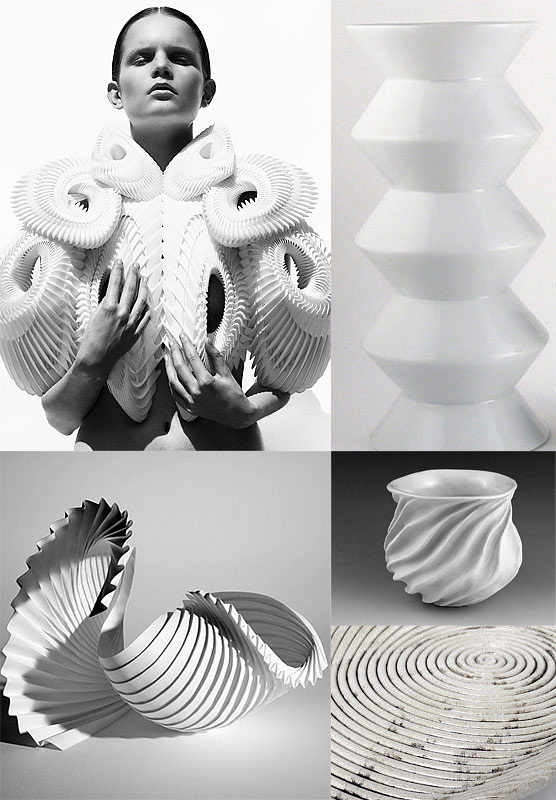 • Iris van Herpen's Capriole Collection explores the technical and artistic possibilities of rapid prototyping in the context of fashion. Her work relies on a mix of traditional craftsmanship and digital experimentation to create abstract, fantastical work. The white octopus-like piece is a paper sculpture made by 3D laser printing, a process that took seven full days to complete. In this video, Iris takes you through her studio and talks about her methods.
• Kina's White Vase Set is a pair of porcelain columns with zig-zag shapes that fit into one another.
• Richard Sweeney's Partial Shell is a single sheet of watercolor paper folded by hand.
• Judi's Tea Bowl emphasizes the tactile experience of drinking tea with deep, curving grooves molded into its cream-white surface.
• Ian and Phuong's Serving Platter resembles the curves of raked sand in Japanese rock gardens.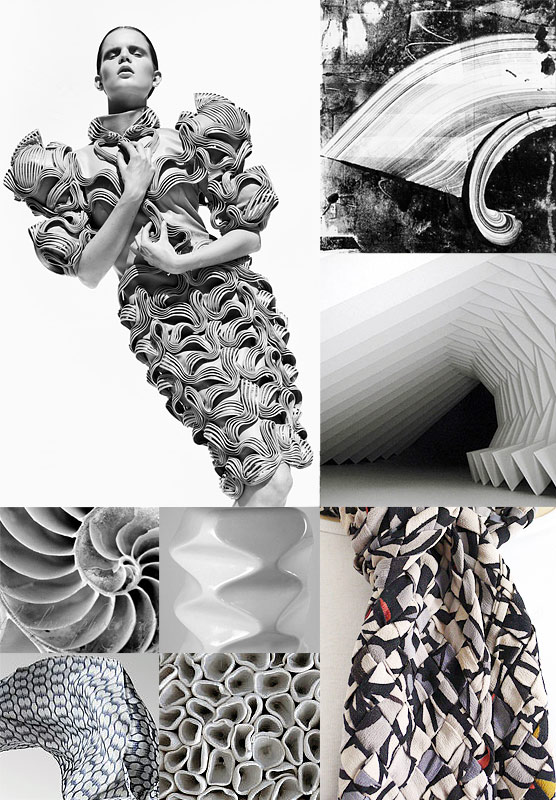 • Richard Sweeney's Monoprints mimic a flattened version of his paper sculptures with a cosmic-cubist background. His Pleat gives monumental, architectural structure to folded paper.
• Nora's Nautilus Shells capture nature's geometric perfection in black and white.
• Matt designed this Light Sculpture using 3D modeling software to create a mold for the porcelain.
• Ona's Silk Scarf has a geometric pattern photographed perfectly: in motion.
• Heather's Hydrangea is a wall tile made from porcelain petals.
• Deborah's Braided Scarf is made from a vintage silk kimono.