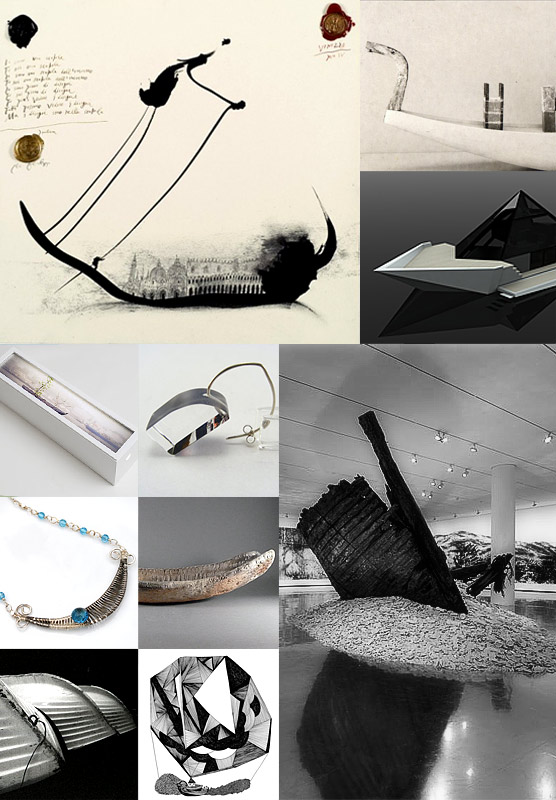 • Books of Venice by Ilmārs Blumbergs takes an Odyssean journey through the sunken city through drawings, photographs, surreal postcards, and plates serving sea-like objects. The smudged, singed, and blurred records suggest that the collection was recovered from an old, damp suitcase. In their distorted, dream-like state, the drawings depict gondolas as elongated wisps containing the city.
• The Model Solar Boat of Imhotep provides a more sturdy, but perhaps more mythic, mode of travel than the gondola.
• This Yacht by Artax Studio models its sleek geometry on the paper boats children make.
• Cai Guo-Qiang's Reflection is a reconstructed wreck, excavated from the coastal town of Iwaki, Japan and filled with broken blanc de chine from Dehua, China.
• Hannes' Lightbox illuminates a boat in an industrial harbor with a tree for sails.
• The surfaces of Jessica's Lucite Earrings play with light like water lapping the side of a boat.
• Kathleen's Necklace weaves sterling silver in a boat curve accented with drops of London Blue Topaz.
• Isaac's Stoneware Serving Boat was fired in an Anagama kiln for nine days, resting on a bed of crushed oyster shells that left a rippling impression.
• This black-and-white print of Row Boats exposes their ribbed sides fading into black.
• Virginia's Boathouse compensates for its tiny size with an fantastic sail made of an intricate network of intersecting planes.