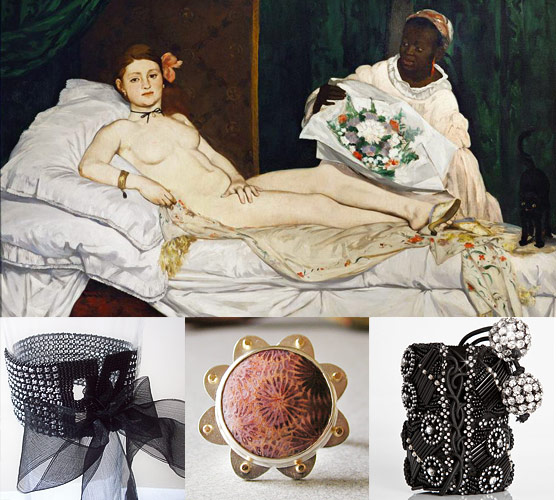 • Édouard Manet, Olympia, 1863
• Choker by Aster Sandler
• Coral Ring by Betsy Bensen
• Cuff Bracelet by Marva and Anette
I was like a child eager for the play, 
Hating the curtain as one hates an obstacle…
Finally the cold truth revealed itself:
I had died and was not surprised; the awful dawn 
Enveloped me. — What! is that all there is to it? 
The curtain had risen and I was still waiting.
Manet took us backstage. He lifted the curtain that stood between a painting and how it was made, so that the backstage area was open for all to see. When he submitted Olympia to the Salon of 1865, the painting caused a national scandal. Manet denied the depth, shading and modeling of paint that transformed flat images into fantasies. What shocked critics the most was that the woman was obviously a prostitute, looking and judging the viewer with a direct gaze. It was uncomfortable. Manet had revealed three truths about painting. One, it was an illusion. Two, the men who gazed at vapid Venuses in the Salons also paid to see prostitutes. Three, painting, like prostitution, is a business rather than detached experience.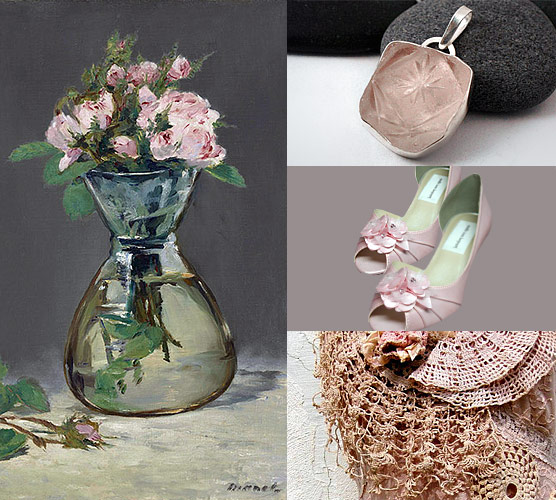 • Édouard Manet, Moss Roses in a Vase, 1882
• Sea Glass and Silver Necklace by Shelley Weber
• Custom Wedding Shoes by Kate Friedman
• Lace Top by Stacy Leigh
Moss Roses in a Vase did not cause a scandal, but it distills Manet's achievement of lifting the curtain on traditional painting. The stems and leaves submerged in the vase are just as prominent as the bouquet on top. The flowers have no ornate vase to hide behind. As Baudelaire's curious man asks in his dream, "What! is that all there is to it?"
Impressionist Exhibition at the Royal Academy of Arts, through September 23rd