How do you like your dots? Working together nicely, playing tricks on you, sporting every color of the rainbow? We've got all of those right here.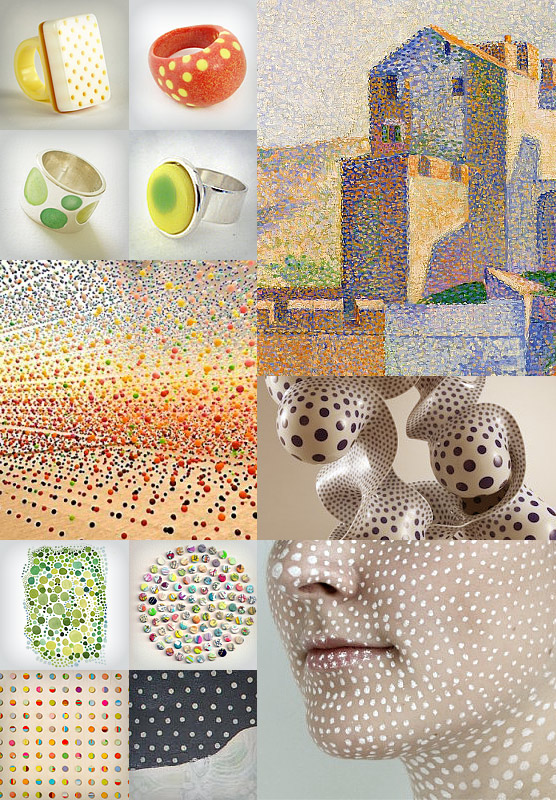 • Paul Signac's The Town Beach depicts the small fishing village of Collioure with the scientific precision and stifling calm that would distinguish Pointillism. Earlier that year, Signac met Van Gogh in Paris and in the coming years they would continue to paint together outdoors and maintain a correspondence through letters. Their styles of painting could not be more opposite – Van Gogh's expressive brushstrokes were not subject to Signac's strict rules – and yet the two had a mutual understanding and respect for one another. Signac looked out for Van Gogh at Arles, making sure that he could paint in peace. Van Gogh wrote that he was grateful for his visit and noted that Signac "wasn't frightened by my painting," as if he was one of only a few.
• Nike Savvas' Atomic was an installation of tiny colorful balls suspended in mid-air and moving slightly with the help of a fan. At last, you could experience what it was like to walk through one of Signac's paintings.
• Harumi Nakashima's Ceramic Sculptures shake up your perception of depth with their amorphous shape at odds with a regular but rippling dot pattern.
• For her series of photographs Ten-Ten Miharu Matsunaga painted a uniform network of dots over faces.
• Jasmine's Daisy Ring is a burst of yellow polkadots just in time for spring.
• Evelyn's Dome Ring combines sorbet shades of orange and yellow that look good enough to eat.
• Holinka Escudero's Ring frames circles of green enamel in sterling silver.
• This Ring by Soda & Potas is hand-made fused glass in green and yellow.
• Louise's Green Dots is a watercolor of different-sized pebbles in all shades of green.
• Bombus' Circle of Dots is made from vintage maps and charts and Book Dots from vintage papers – perfect examples of their mission to save the planet through decoupage.
• Jaime Rovenstine's Wewe is a dream-like landscape of dots, dripping white paint, and colorful geometric planes.