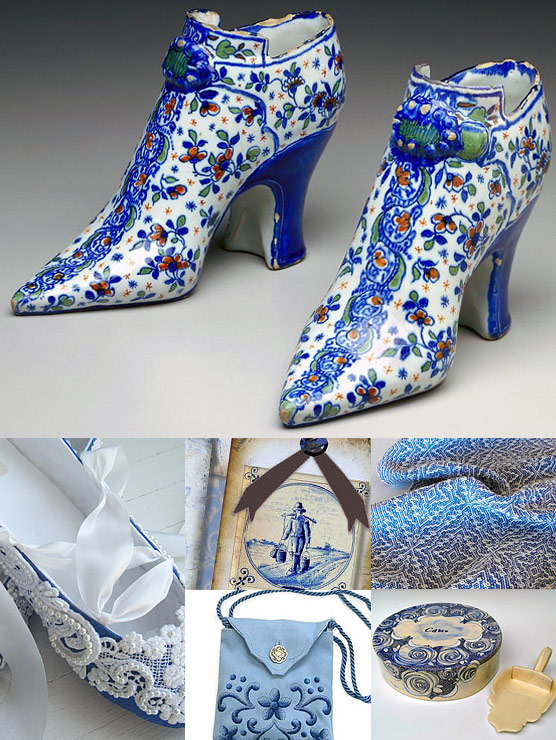 • Walking in these porcelain shoes would be pretty difficult. This pair dates back to 1720, when Delftware shoes were commonly given as holiday gifts.
• For something a little more comfortable but no less luxurious: Bobka Baby's Delft Shoes, a pair of blue ballet flats overlaid with hand-beaded, white lace.
• This Delft Blue Embroidered Purse is made by an organization that helps disabled young people learn crafting skills.
• Studio Southern Valley creates these Ceramic Tiles to look like the antique Delftware versions.
• Nyree Lynn's Table Runner is the perfect complement to your Delftware with an intricate, diamond and zigzag pattern in blue and cream white.
• Linda Fahey's Hatbox Cake Stand is a modern interpretation of classic, blue-and-white tableware.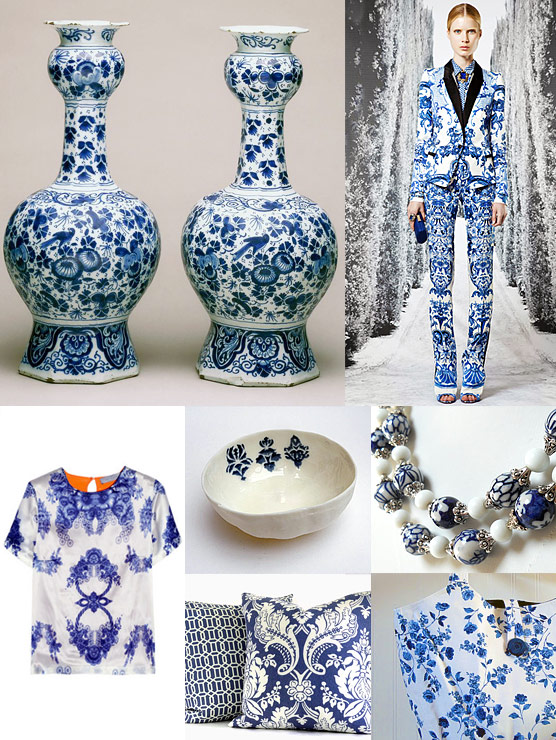 • Delftware often looks like a hodgepodge of decorative elements. This pair of vases from the early 1700s has birds, flowers, and foliage among a millefleurs motif.
• The Roberto Cavalli Resort 2013 collection transformed a tame tuxedo with the decadent patterns of Delftware.
• The Rosemary Silk-Satin Top by Preen creates a bold contrast between the printed, blue-and-white front and a shock of orange in the back.
• Della Lana's Pumpkin Bowl is made from hand-poured porcelain and accented with three Delftware motifs.
• Katie Corrigan's Pillow Covers add some Dutch flare to your room with a traditional, floral pattern lattice print pair.
• Minouc and Nienke live in a rural area outside Amsterdam and create work – like this Delft Blue Necklace – inspired by the Dutch landscape and traditions.
• Kris and Karla's Bucket Bag has a delicate, blue-and-white floral pattern and quilted denim bottom.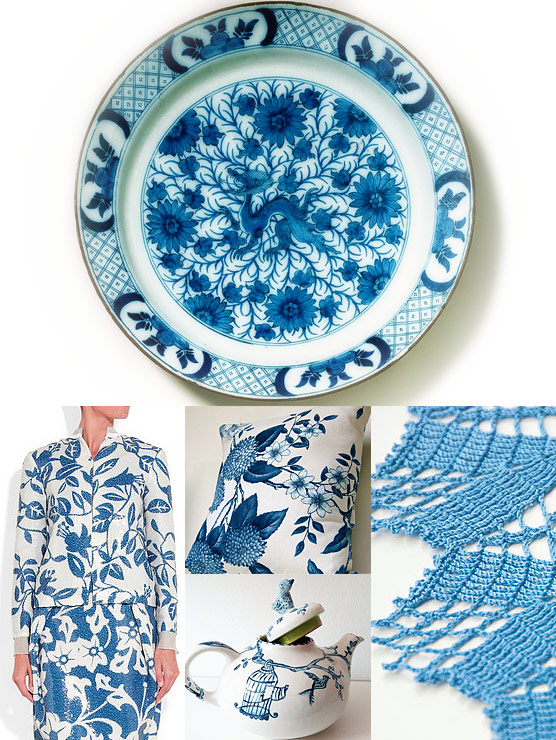 • Curious about how Delftware workshops operated in the 18th century? Read more.
• Diane von Furstenberg's Marcie Jacket sparkles in a blue-and-white floral pattern made from sequins.
• Marcia Gordenstein's Pillow Cover has a classic French Toile pattern of flowers and stems.
• Carina's Blue Bird Teapot makes your tea party a little more whimsical with a sculpted bird on the lid.
• Sharon's Crocheted Doily creates a fine, intricate design in Delft blue.