When does an apothecary become royal? François Clouet painted many portraits of the French ruling family, but his depiction of apothecary Pierre Quthe is every bit as regal. The sumptuous drapery, lace cuffs and collar, and impeccably groomed beard suggest that Quthe took his craft seriously and was respected for it. Clouet's royal portraits dwell on intricate costumes and elaborate surroundings rather than psychological depth. Quthe really looks at you and he doesn't need fancy clothes to prove his worth. He has a book of plants and the knowledge of how to use them for medicinal purposes.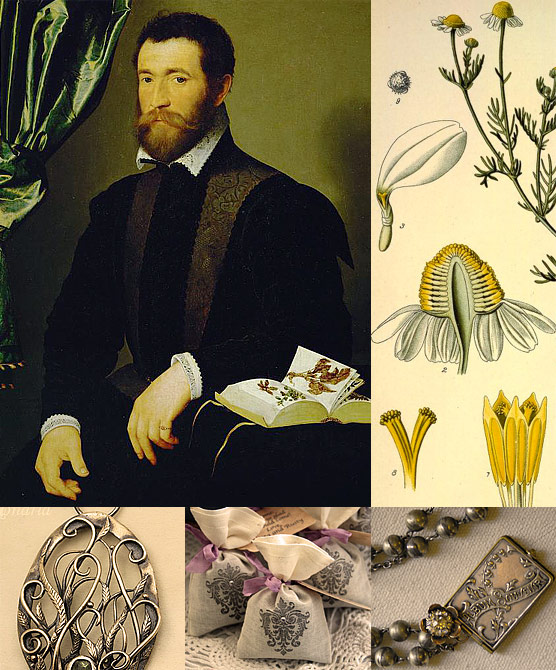 Medizinal Pflanzen, published in 1887 by Franz Eugen Köhler, marks the culmination of several centuries worth of botanical illustration. Köhler's work consists of almost 300 medicinal plants rendered in meticulous detail. You can view the entire collection here. The plant pictured here is chamomile and peppermint, one of the ingredients of Apothecary Green, a tea blend available from Verdant Tea. Laoshan green tea combines with peppermint, Holy Basil, cardamom, and coriander to create a refreshing and medicinal flavor.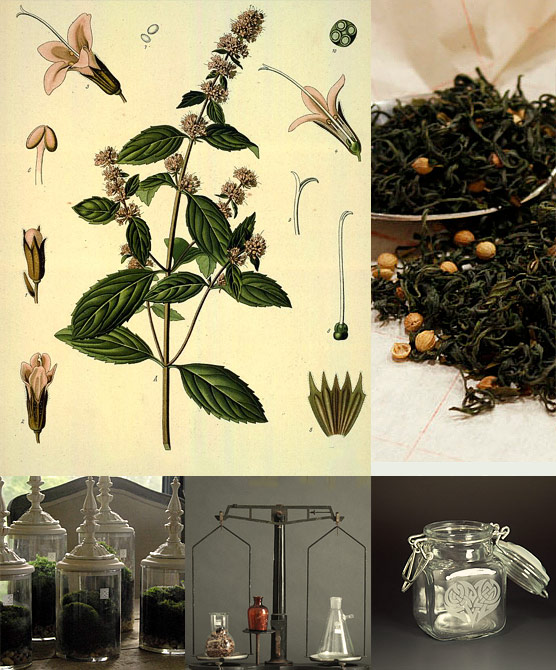 Ann's Herbarium Pendant is hand made from bronze and polished to a golden glow.
Roberta's Satchet/Tea Bags are filled with either jasmine tea or lavender.
Silverbonbon's French Silver Necklace features a vintage 'Album Souvenir' book and silver rosary chain.
Robyn and Curtis give you all the tools you need to create your own ecosystem with their Apothecary Jar Terrarium Kit.
Hindsvik's Vintage Balance Scale dates from the early century and is perfect for measuring out your herbs and spices.
Scott's Etched Glass Apothecary Jar has a celtic motif, but you can request customized design or lettering.