Step inside the weird and wonderful world of crochet, where colorful yarn takes on a life of its own.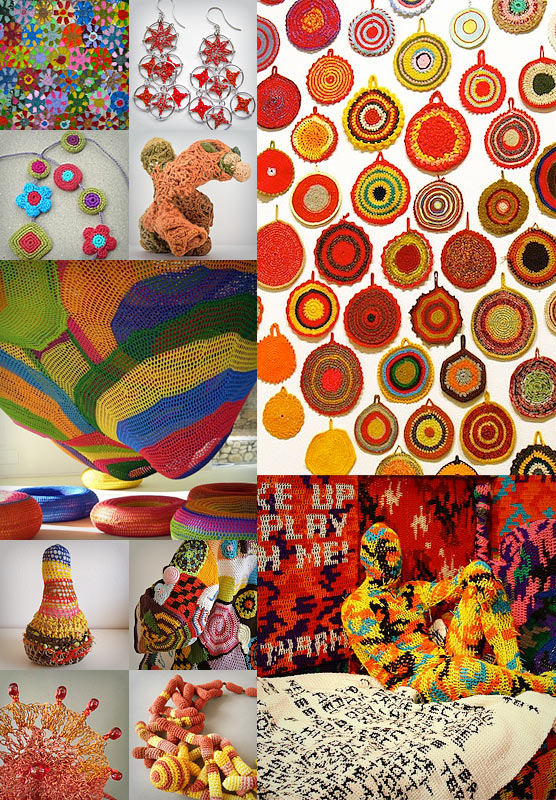 • Anu Tuominen's Crocheted Wall turns the most dull of household items – the potholder – into a vibrant installations with variations on colorful bullseyes.
• This Apartment by Olek is a disturbing reminder of what happens when you take your knitting obsession too far. Ever inch is covered in crochet. If anyone you know seems a little too attached to their yarn, it's not too late to intervene.
• Toshiko Horiuchi MacAdam's Crochet Playground is a web-like castle that suspends a valley of colorful crocheted circles.
• Dana Depew's Horticulture Composition is a vertical garden of painted crochet flowers.
• Leisa McCord's Earrings frames red and orange crocheted stars in sterling silver hoops.
• Brigitte and Janine's Sybella Necklace is a string of crocheted blooms and bullseyes in bright colors.
• Daniel Schwartz's Dally is sculpture made of worn, slightly messy yarn.
• Paula do Prado's Art Object No. 6 is a gourd-like form wrapped in stripes of coiled and crocheted fibers.
• Carmen Bach's Cardigan is an incredibly detailed and colorful patchwork of crocheted patterns.
• Linda Hawkins' Barking at the Moon is a mask made by several techniques of manipulating wire – worthy of the most splendid Mardi Gras costume.
• Lidia Puica's Necklace is a cascade of crocheted strips in shades of yellow and terracotta red.