Watching, I have grown lonely.
If only I had a lodging
outside the autumn!
The moon lives
in the field and on the hills.
– Princess Shikishi, 12th c.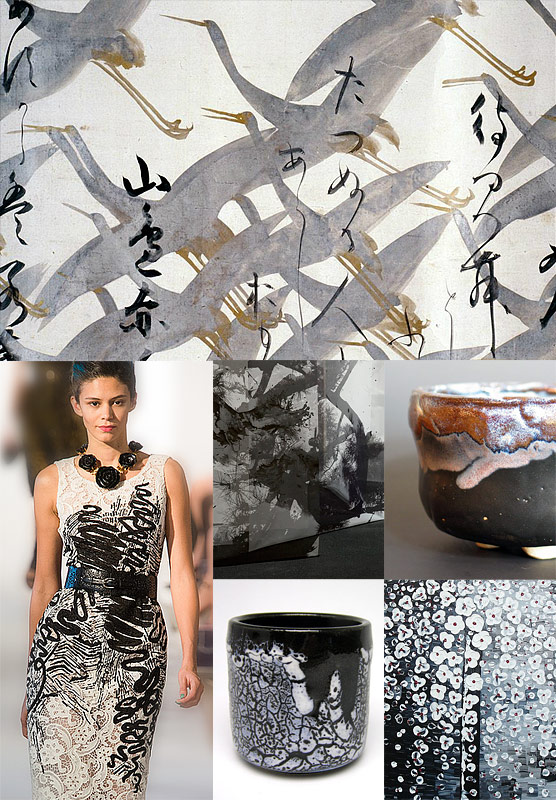 • The Crane Scroll (1610) combines the calligraphy of Hon'ami Koetsu, painting of Tawaraya Sotatsu, and poetry of the Sanjurokkassen, an anthology of thirty-six immortal poets. The brushstrokes of calligraphy mimic the movement of the cranes, but the cranes are not thematically linked to the poetry. Both Koetsu and Sotatsu wanted to revive old poetry by experimenting with loose calligraphy and new printing techniques. Koetsu was also an accomplished tea master and potter known for his rough and textured tea bowls.
• Shun Kawakami's Bokusho installation creates a landscape of wild brushstrokes on sheer white sheets. See it in action.
• George's Yunomi Bowl has a milky glaze on its interior that flows over the rim and creates a rich combination of peach and bronze colors.
• Barbara's Black & White Cup has a cracked-looking surface that resembles an icy lake.
• Ilonka's Whispering Tree is a cascade of textured black-and-white cherry blossoms painted with a palette knife.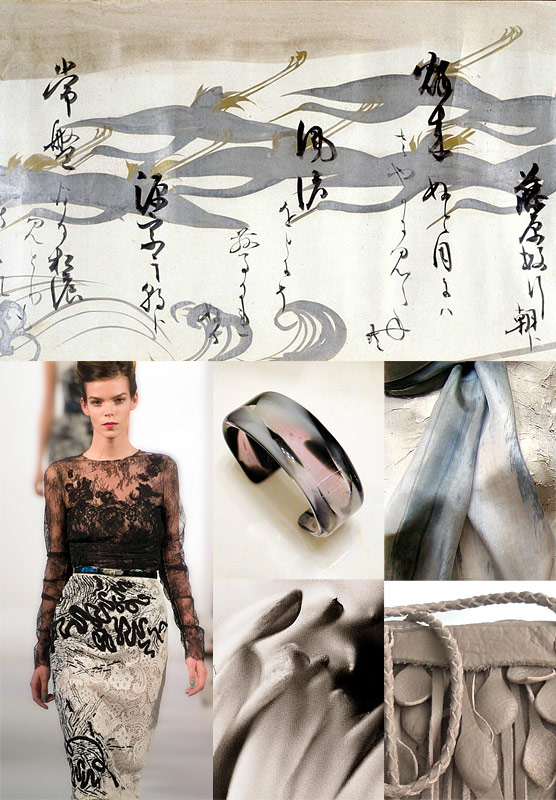 • The Oscar de la Renta Spring 2013 Collection included several pieces with black, squiggly ribbons laid over white lace.
• Laura's Bracelet has strips of glass fused together to look like pink, black, and white brushstrokes.
• Klara's Silk Scarf blends a rich cream color with streaks of blue and lavender.
• Deborah's Sepia Dahlia abstracts the converging petals about to bloom.
• Debra's Taupe Leather Handbag has a leaf-like fringe flowing over one side.