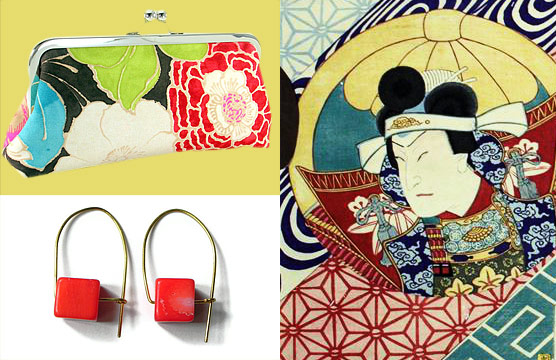 • Red Flower Clutch Handbag by Alfredo
• Coral Cube Earrings by Adriana Soto
• Tsukioka Yoshitoshi, Minamoto no Yoshitsune, 1867
Yoshitoshi stood at a crossroads. He was a master of woodblock printing at a time when modern technology was changing art in Japan. Photography and mass production, adopted from the West, signaled the end of the golden age of Ukiyo-e, a genre of woodblock prints that depicted tales from history, landscapes, and entertainment. Yoshitoshi did not go quietly. He took his craft to a new level and produced work that is dynamic, violent, and surprisingly modern.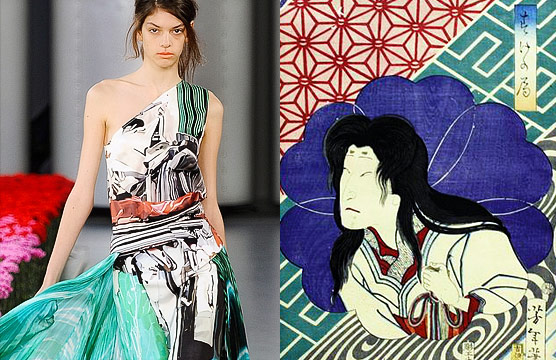 • Mary Katrantzou Spring 2012
• Tsukioka Yoshitoshi, Suke no tsubone, 1867
The three prints are advertisements for Yoshitsune and the Thousand Cherry Trees, a popular Kabuki play filled with intense drama. Leading Kabuki actors were revered as cultural icons, instantly recognizable on prints that generated excitement about performances. These are the original movie posters that use celebrity status and decorative graphics to demand attention.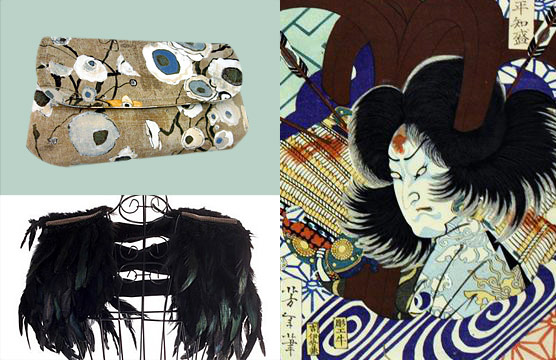 • Neutral Poppy Clutch by Annie and Lisa
• Black Feather Vest by Austine Shu
• Tsukioka Yoshitoshi, Shin chunagon Taira no Tomomori, 1867