Today we're messing with the box of paints, mixing the colors until our heads spin.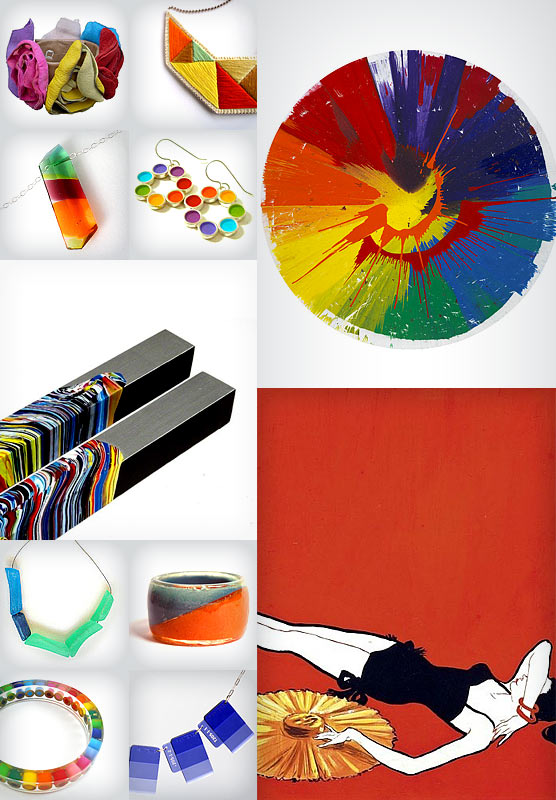 • Damien Hirst's Spin Paintings were inspired by a 1970s children's television show which demonstrated how to paint with a cardboard spinning machine. Hirst stuck to the same principles of childishness and easy fun, creating work that relies on chance rather than skill.
• Katrin Fridriks' Double Helix pours a molten rainbow over two slate gray sticks.
• The lipstick red background of Rene Gruau's Straw Hat proves why he is the undisputed genius of fashion illustration. Naturally, spinning rainbows in the heat is bound to make one dizzy.
• Mano Bello's Bracelet is a cuff covered in colorful flowers made out of leather and suede.
• Astrid's Bib Necklace is embroidered with a geometric composition of red, yellow, mint green, and tan triangles.
• Tracy Bull's Parallelogram Necklace suspends a multi-colored gem made of fused glass.
• Tami Rodrig's Earrings are each a cluster of sterling silver bezels filled with a bright pot of color.
• Mel Miller's Necklace strings together five chunky beads made from luminous bouncy balls.
• Melissa's Bangle is an 80s inspired combination of dark blue and orange segments set in clear resin.
• Dana's Bracelet has tiny pieces of colored pencil embedded in resin.
• Seedling Design Studio's Necklace suspends four plastic Pantone chips in a blue gradient.