When days are long and you wonder what to do, lift up high your tea-bowl; perhaps, through a southern window, a pure breeze will fill your hair.
– Tang Yin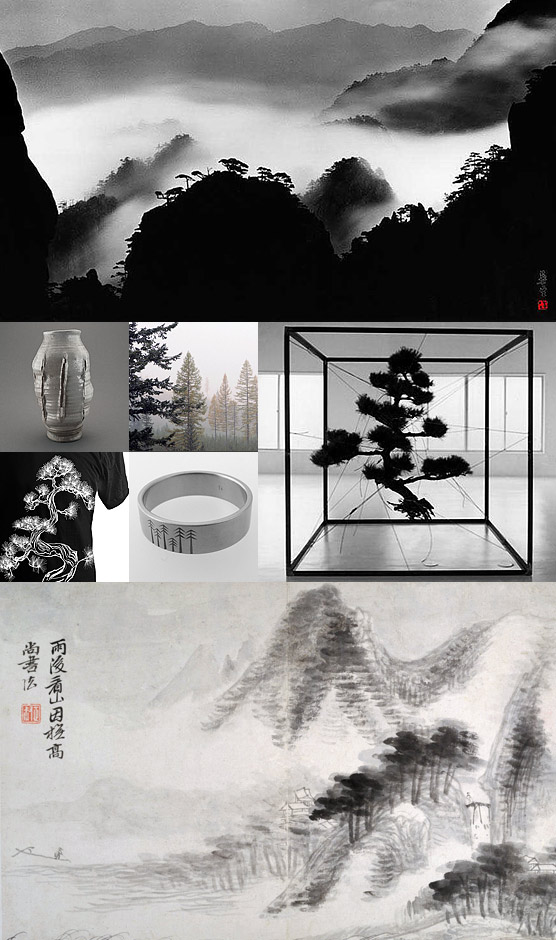 • Yun Shouping's Mountain Landscape is painted in the manner of Song and Yuan masters, who worked during the golden age of Chinese painting six centuries earlier. Yun's loose brushwork aspires to the Sung ideal of capturing the essence of a landscape without showing your technique. The Sung critic Tung Yu notes that the painter must concentrate on "collecting many views" into one image rather than copying from nature. The Impressionists executed the same idea, only in color and many centuries later.
• Contemporary photographer Wang Wusheng's series Celestial Realm suggests that the loose brushwork of ancient Chinese painting isn't far off from how the landscapes really appear. His images of the Mt. Huangshan mountain range hover between the solid and immaterial. The clouds and mist envelop craggy peaks and pines in a quiet, untouched space that remains just as the Song painters would have seen it. An exhibition of these photographs will open in early March.
• Makoto Azuma's Suspended Trees expose the roots of the bonsai tradition.
• Shawn McGuire's Lantern allows light to come through the uneven edges of vertical slits running down the ceramic surface.
• Lucy Snowe's Winter Landscape captures the first signs of snow in the forests of Oregon.
• Marissa Rojas' Screen-Printed Shirt has her illustration of a twisting Japanese pine tree.
• Ash and Laurel's Ring has a pine forest etched into its titanium surface.