The landscape painter who does not make his skies a very material part of his composition neglects to avail himself of one of his greatest aids. It will be difficult to name a class of landscape in which the sky is not the "key note," the "standard of scale" and the chief "organ of sentiment."
– John Constable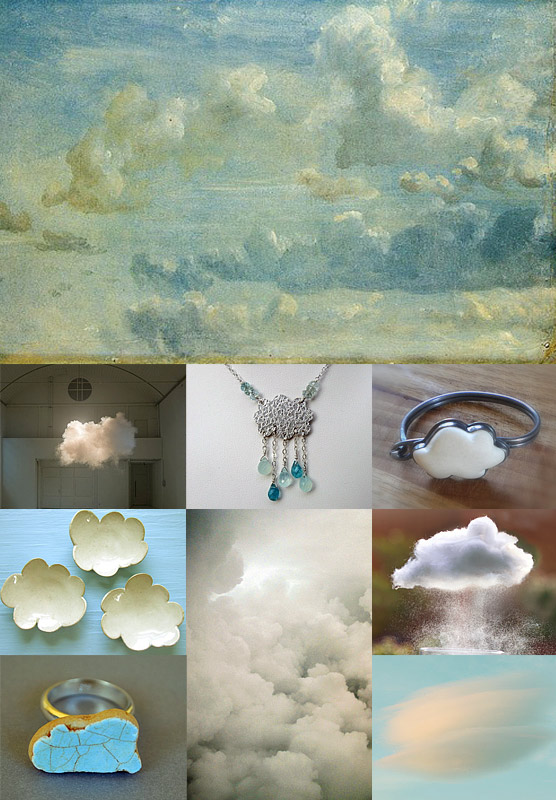 • Constable's Cloud Studies are loose brushstrokes labeled precisely with the date, time, and atmospheric conditions. They were a way for Constable to distill fleeting moments and train his hand for larger paintings. He studied the English countryside because his backyard was more rich and expressive than the grandest myths.
• For a few seconds, Berndnaut Smilde creates Clouds Indoors with a fog machine, capturing the surreal moment on camera before it dissolves.
• Alea & Brenda's Necklace suspends raindrops made of apatite and chalcedony from a textured silver cloud.
• Michael & Patty's Bracelet frames a porcelain cloud in oxidized silver.
• JD Wolfe's Ceramic Dishes are a set of three, slightly curved clouds.
• Noga's Ring repurposes a found piece of ceramic stone.
• Delaney Allen's Clouds are near-abstract photographs of light and shadow.
• Sarah Ann Wright's makes her Clouds out of cotton balls and creates rain with hairspray.
• Lucy's Dreamed of a Cloud is a photograph of a diffuse streak of cream against a light blue sky.