O snail
Climb Mount Fuji,
But Slowly, slowly
– Kobayashi Issa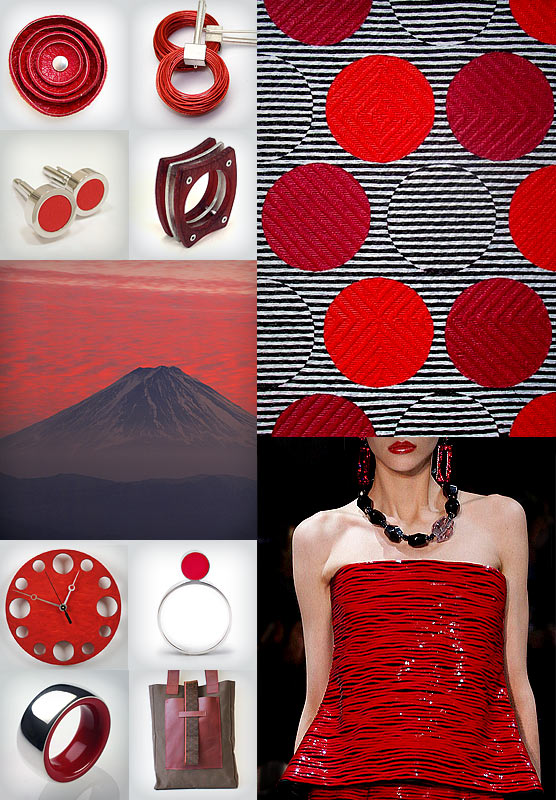 • Yukio Ohyama's photographs of Mt. Fuji cover a lifelong commitment to capturing the mountain in all of its guises. Like Monet painting his garden in every possible light and angle, Ohyama knows Fuji in its blood red, golden, and pristine white moods.
• Samantha Bittman's For Roy and Yayoi creates a mesmerizing optical effect with acrylic dots painted on black and white woven textile.
• The Armani Privé Spring 2013 Collection included one sequined gown that looked like liquid latex on the body.
• Katrin's Brooch is made from four circular layers of red leather.
• Ewa Wisniewska's Earrings suspend a bundle of red wires from sterling silver stems.
• Liz M.'s Cufflinks are bright red statements framed in sterling silver.
• MK Wind's Vitalize Ring balances a sterling silver layer between red resin with bold rivets.
• Whitevan' POP Clock is made of red plywood with some of the natural grain showing through.
• FeinFein's Ring comes with nine dots of different colors that you can change to suit your mood.
• Makoto Tajiki's Ring is made of silver with a deep red lining.
• Wasabi's Handbag combines burgundy leather and brown twill on the outside and is lined with vintage kimono fabric.