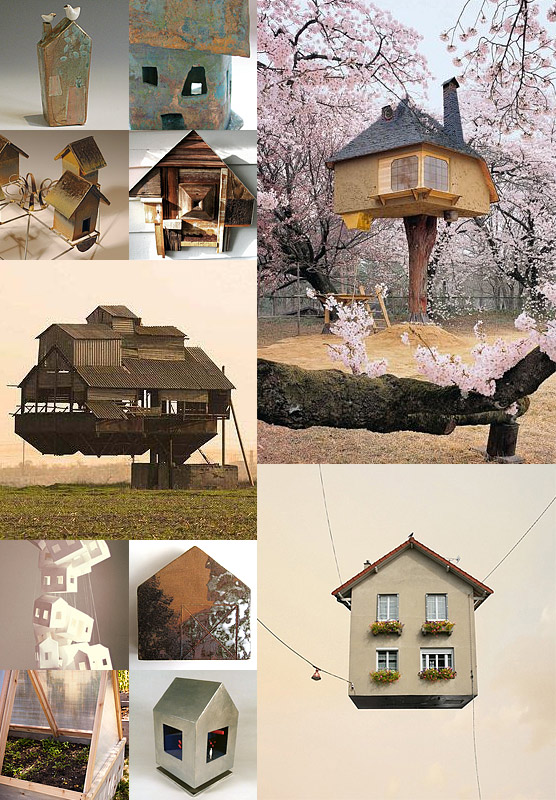 Some houses are not ordinary enough to fit into a major metropolis, but there is a city where they are all located. Let's take a tour of the most notable landmarks and their esteemed architects.
If you look up, you will see a few houses that float. Laurent Chehere's Flying Houses come directly from the Belleville and Menilmontant neighborhoods of Paris, sometimes with drying laundry attached. That vertical cascade is Natalie's Mobile, a series of 30 houses made of white paper.
For residents that don't want to float independently but still want some height, there is Terunobu Fujimori's Tetsu Teahouse, a space where one or two people can enjoy a cup of tea after climbing up a tree trunk. Margaret's Tall House comes with a pair of birds that sing from its rooftops. Few people venture into this One-Legged Farmhouse, though.
Then there are the ceramic houses firmly rooted on the ground. Sisimoco's Slab House and Randy's Four Corners have uneven patterns of glazes that always attract attention.
Minimalists are drawn to Jeffrey's Silver House, while surrealists look through the misshapen windows of Emily's Crooked House.
Those who prefer a strictly natural approach are fond of David's Log Cabin, made from recycled wood in a tightly-packed geometric composition. The Chicken Gardener offers a Portable Greenhouse, which allows you to move a cold frame to the garden bed of your choice.