Before I could speak
It must be that my heart has gone
To be your guide-
To lead you to this questioning
Of whither I bend my gaze.
– Fujiwara no Takafusa (1148-1209)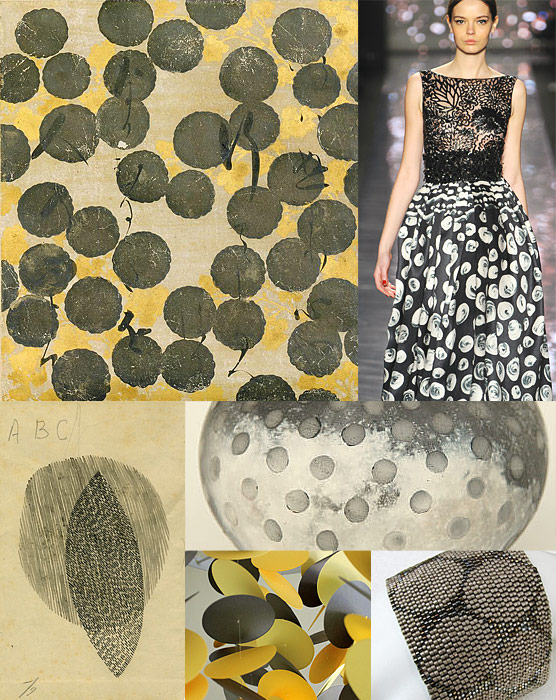 • Tawaraya Sotatsu's poem card layers calligraphy over chrysanthemums. These poem cards, or shikishi, raised correspondence to an innovative art form. The ruling elite in seventeenth century Japan had conversations in waka, classic poetry dating back as early as the eighth century. The strokes of calligraphy merged with the design and focused on plant and animal imagery. Shikishi were part of  intense and intricate collaboration between artists, calligraphers, tea masters, and intellectuals. This poem card combines Sotatsu's chrysanthemums with the calligraphy of Hon'ami Koetsu and verse by Fujiwara no Takafusa.
• Watch Naeem Khan talk about his Fall 2012 Collection, which re-imagined Indian textiles and body art in muted shades of grey, gold and silver.
• Olivia's drawings give new meaning to used paper. Her work echoes the collaborative spirit of Sotatsu's poem cards. She renders book pages, letters, and packaging materials with simple and subtle forms that work with existing markings. Start Over was a page from a book with the same title. Read an interview with Olivia here.
• Vanessa's Spotted Ceramic Pot has a burnished surface like the moon on a cloudy night.
• Katie's Mobile creates a cascade of yellow and grey circles.
• Carol's Cuff Bracelet is a sleek and understated piece that resembles snakeskin.