Our day-to-day taste in chocolate may be more tame, but why not dream of these intriguing variations?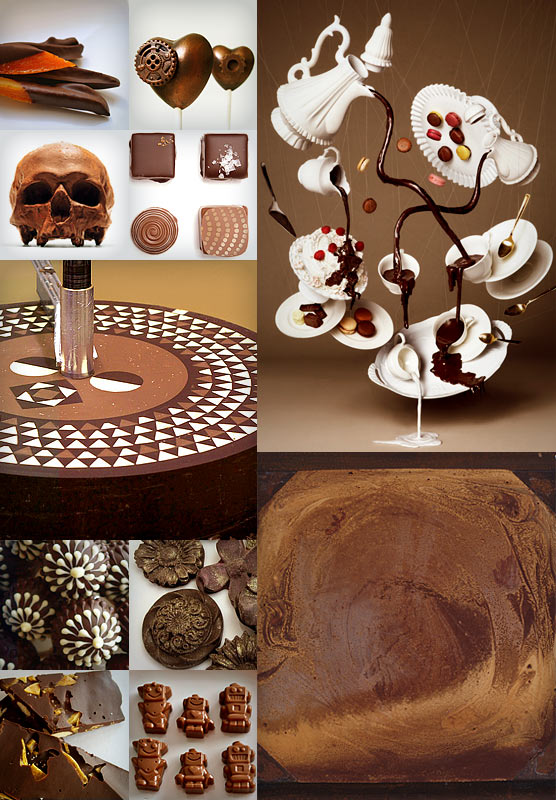 • NAM's Chocolate Trail series of photographs look like gatherings only the Mad Hatter would dream up. These are not digitally manipulated composites. Invisible strings suspend the cups, flying macaroons, and dripping chocolate.
• These Chocolate Wheels by Mutter and Somers have a mill that shaves thin layers off the top, revealing a narrative of different designs like fractals and dancers.
• Dieter Roth's Basel on the Rhine is chocolate brushed on a steel plate that has been slowly consumed by bugs since 1969.
• Joann's Chocolate Orange Peel are the perfect combination of zesty and sweet.
• These Lollipops by The Frosted Petticoat are chocolate hearts with a steampunk detail and edible copper glaze.
• Adi's Skulls are anatomically correct and made of pure chocolate, with a dusting of cocoa powder.
• Heather Oliveira's Truffles are made from organic and fair trade ingredients in flavors like peppermint pink grapefruit and lavender honey earl grey.
• Zukr Boutique's Lollipops are made of chocolate and ganache infused with Single Malt Dalwhinnie from the heart of Scotland.
• Amedo's Chocolate Bark is an exotic blend of mango, sea salt, almond, and chili flavors.
• Nicole's Chocolates are bite-sized robots made of milk and white chocolate.