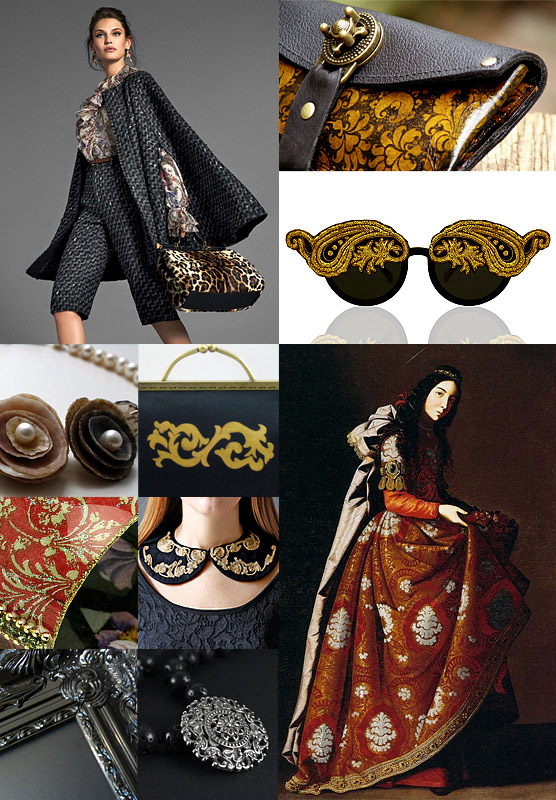 • In Francisco de Zurbarán's Saint Casilda, the drama takes place in the golden folds of her skirt, trimmed with pearls and precious stones. The strong contrast between light and shadow takes after Caravaggio, but Zurbarán trades action scenes for tension in the details.
• The Dolce & Gabbana Fall 2012 Collection mixed elements of Italian Baroque architecture with modern tweeds and leopard print.
• Starlene's Wallet has a golden yellow Baroque pattern and antique brass clasp.
• These Sunglasses from Material Memorie dress up black glasses with a decorative Baroque trim.
• The Three Roses Necklace by Yalos is made from materials picked up on the beaches of Turkey: petals made from limpet seashells, and freshwater pearls at the center of each flower.
• Sara's Clutch has a gold decorative motif on black cotton fabric.
• Iris' Enamel Bangle is covered with a collage of gold and red florals, and accented with rows of golden beads.
• Patty's Collar has a luxurious gold pattern hand-embroidered on black fabric.
• Kimber's Chalkboard is surrounded by an ornate frame with a black glossy finish.
• Likhomanova's Necklace suspends a sterling silver floral ornament from a string of lava rocks.