Playing with LEGOs and plastic toys just got a whole lot more complicated.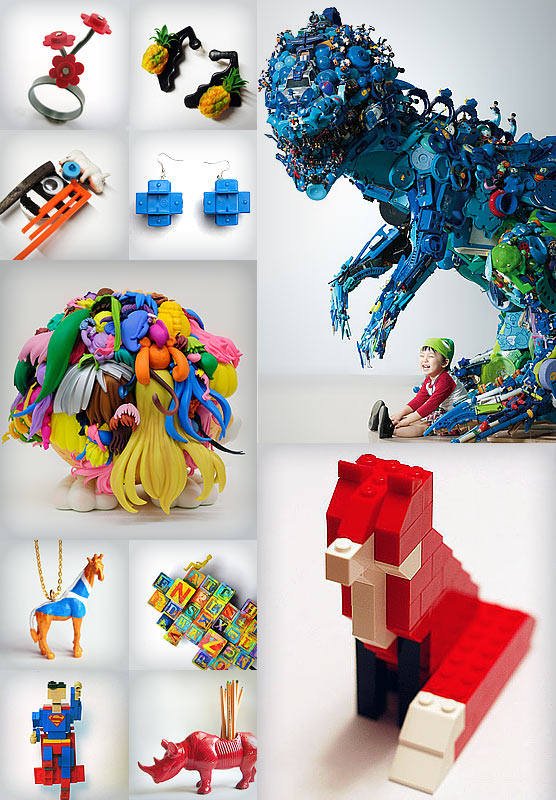 • Teppei Kaneuji's Teenage Fan Club is a series of sculptures made entirely from the hair of various plastic figurines.
• Hiroshi Fuji's Dinosaur is made from discarded blue toys, a kind of tribute to the fleeting fun of cheap plastic.
• David Cole's Fox is part of his series of unofficial taxidermy kits that show you how to create cute animals from LEGO pieces.
• Shannon Conrad's Ring extends a bouquet of red LEGO daisies from sterling silver stems.
• Laura Brannon's Earrings are tiny pineapples set on black wood. Her Pin places a vintage toy pig on a playful throne of striped acrylic and swarovski crystal.
• Paloma Navarrete's Hyperclash Earrings are found toys with a faceted cube shape.
• Zigeti's Pendant suspends a giraffe hand painted with blue, white, and gold.
• Elizabeth Rosen's Ready for Takeoff is a battleship made of building blocks splattered with bright colors and charging pencil-first.
• Mariann Asanuma's Superman is made from LEGOs in a lift-off pose.
• Kelly M.'s Pencil Holder is a rhino hand-painted in shiny red, but you can choose from any color you like.