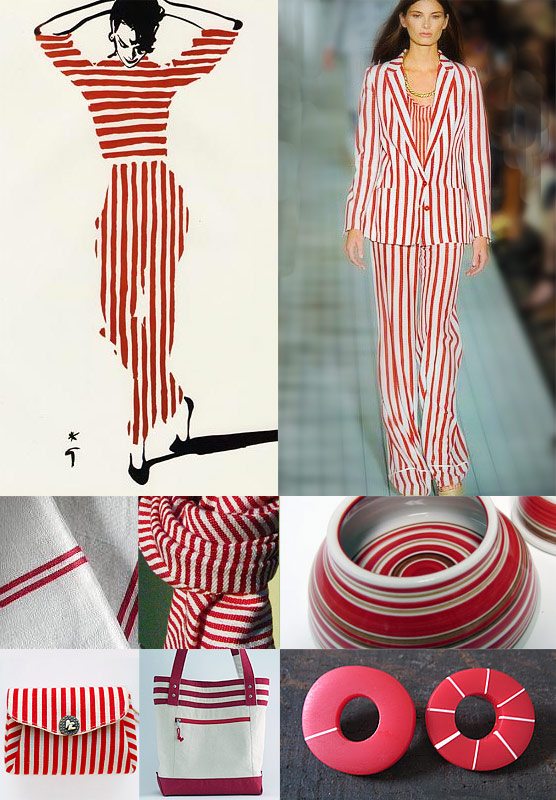 • A drowning sailor is easier to spot when he's wearing stripes. That's why the navy-and-white striped shirt became the uniform of Northern French sailors in the late nineteenth century. Coco Chanel realized that wealthy Europeans wanted to be spotted easily on the beaches of the French Riviera. New railways and roads allowed travel, and the summer vacation was born. No one wants to wear a corset while relaxing in the sun, so Chanel tailored fishermen's uniforms to create a casual wardrobe. She was the first to connect understated ease with elegance by showing the elite that dressing as a worker was fashionable (and practical). René Gruau made illustrations for couture houses and magazines, and he favored bold brushstrokes and simple silhouettes. His depiction of a red striped suit demonstrates how well the stripe travels from fishermen's docks, to showrooms, to mass media. Striped pajamas parading down the High Line doesn't seem like a good idea, but Tommy Hilfiger pulled it off for his Spring 2013 Collection. Variations on the stripe in red, white, and blue looked ready to pack for another summer on the East Coast, or the Mediterranean.
• For your picnic on the Riviera, bring Sabien and Micha's French Linen Tea Towels, which were made around 1920.
• Debbie's Cotton Scarf is hand-woven with red and white stripes.
• Julie's Bowls are a set of matching food and water bowls in red, white, and light brown stripes.
• Bo's Purse hides an embroidered red fox under its top.
• Sharon's Nautical Tote is made of heavy and durable cotton canvas.
• Kaz's Red Resin Hoops have a different number of cream stripes on each one.
Congratulations to Stacy for winning our zodiac tea drawing! You can take a look at her Etsy shop here.