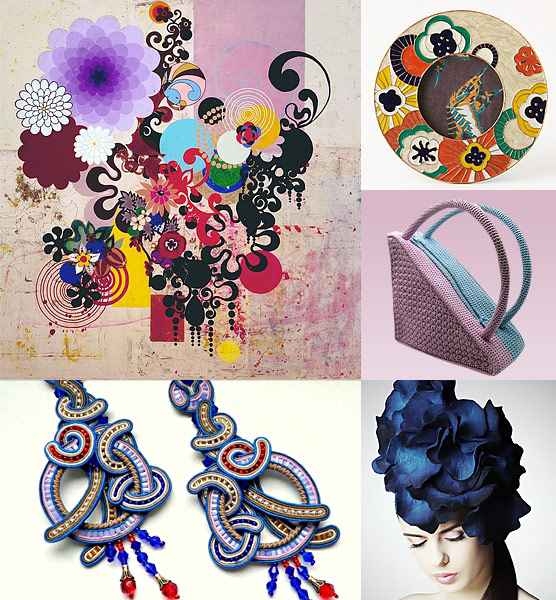 • Beatriz Milhazes, Mariposa, 2004
• Desert Rose Frame by Anthropologie
• Crochet Triangle Purse by Marija
• Soutache Earrings by Diana
• Bright Blue Rose Hat by Eve
Beatriz Milhazes creates carnivals of color and pattern on the surfaces of her abstract paintings. Layer by layer, she paints individual motifs on sheets of plastic, glues them on the canvas, and peels off the plastic. The explosions of color originate in a disciplined and rational working process. She says that applying each motif introduces new conflict into the composition, and the work is done when all the elements come into balance. The finished surface looks like a wall that's been exposed to the elements, slightly chipped yet still brilliant.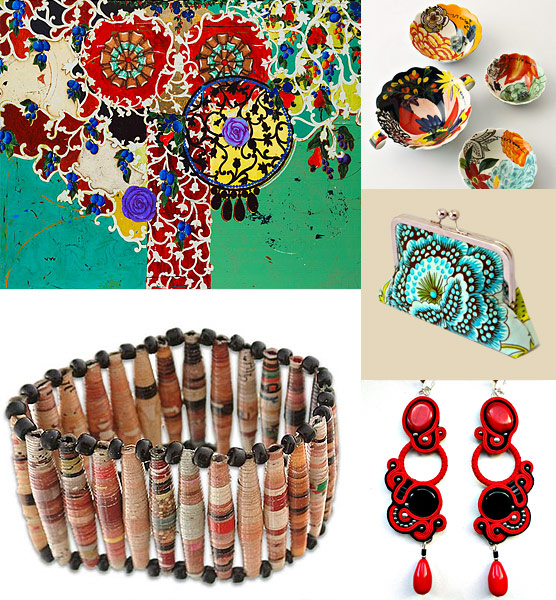 • Beatriz Milhazes, Succulent Eggplants, 1996
• Amaryllis Measuring Cups by Anthropologie
• Small Purse by Michelle
• Recycled Paper Bracelet by Francis Oliveira
• Soutache Earrings by Diana
She considers her work abstract, and yet the details reveal a complex history of Brazilian and European influences. Matisse's cut-outs, Mondrian's grids, and the arabesques of Brazilian Baroque echo in her work. Botanical patterns meander throughout, inspired by strolls in the Rio de Janeiro Gardens located next to her studio. Milhazes compresses past and present, Brazil and Europe, into sophisticated eye candy. Unlike more sombre abstract painters, Milhazes is not afraid to introduce a little Brazilian flair into her playful explorations of color and geometric structure.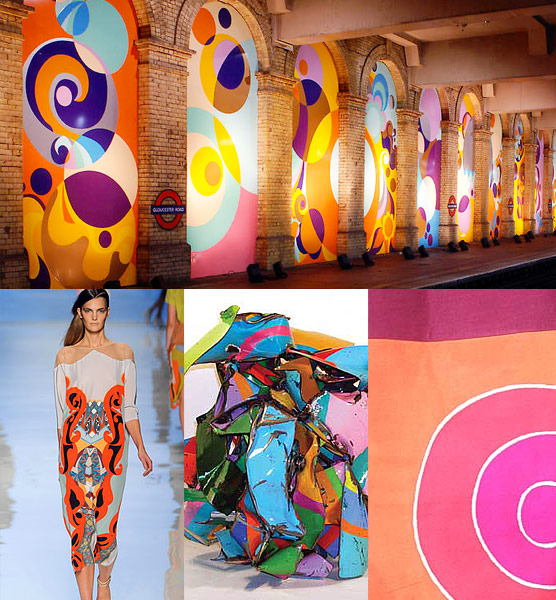 • Beatriz Milhazes, Peace and Love, 2005
• Etro Spring 2012
• Sculpture by John Chamberlain
• Cotton Handbag by Nareenat
In 2004, Milhazes started working on art for public spaces. For the Gloucester Road Tube station in west London, she translated her motifs to a bigger canvas, the area between nineteen vaulted arches.