Old fabric tells a story, on personal, local, global, and cultural levels. We've selected some unique ways of repurposing denim to create new stories and remember old ones.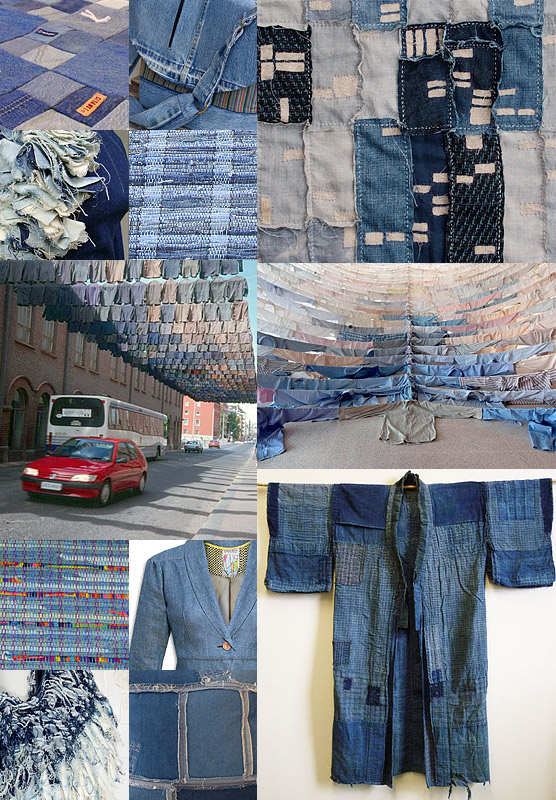 • Kathryn Clark's Quilts are handmade Google maps of the foreclosure crisis. She uses scraps of fabric to depict specific neighborhoods, with the cut-outs representing where the foreclosed lots are located.
• Kaarina Kaikkonen's Fabric Installations are shirts and men's jackets arranged in the shape of a neat laundry line and ship's hull. The pieces of fabric create a muted palette, as though a watercolor artist were mixing shades of blue and peachy pink.
• This Boro Jacket by Sri Threads is made from antique boro, or mended fabrics worn by workers in rural Japan. The indigo dye acts as a natural insect repellent.
• Kathy Hopper's Quilt is stitched together from various denim jean pockets.
• Amy Jo's Messenger Bag combines Balinese Ikat with recycled denim, two very different fabrics that complement each other well.
• This Dress by G_Art_Ment has a unique asymmetrical shape with a bleached denim trim of fragmenting ruffles.
• Lori's Rug was woven on a large vintage loom from old, faded jeans. The myriad shades of blue looks like moving, shimmering water.
• Kelly Kellie's Rug is a tightly-woven grid of blue jeans and vintage fabrics in rainbow colors.
• This Jacket by Sheila Couture is made of blue denim linen and has turned up cuffs showing a polkadot pattern.
• Beverly Kingwood's Bag is a cascade of shredded pieces of recycled denim.
• Erin's Pillows are made from rectangular patches of denim with patches and frayed edges to give them a worn feel.