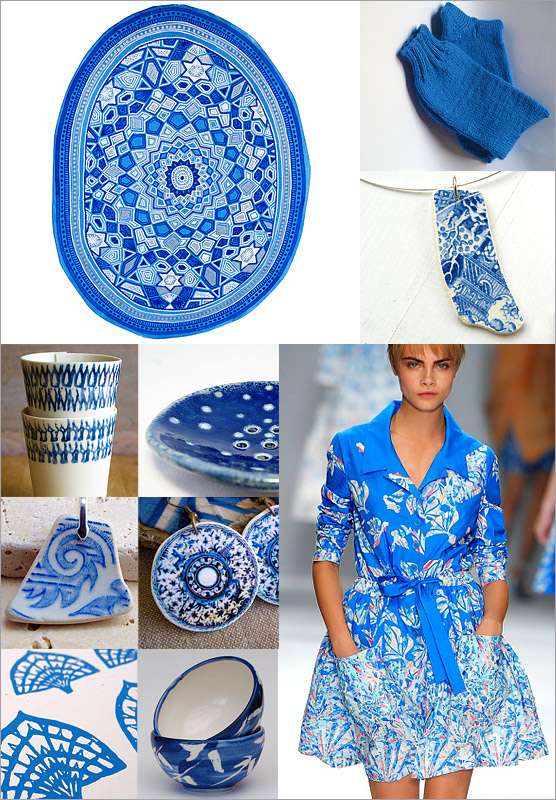 • Lucas Grogan's Black & Blue paintings are islands of concentric, intricate patterns. His work is inspired by a wide range of cultures and styles, including Aboriginal motifs, Islamic textiles, and European lace. Read an interview with him here.
• The Cacharel Spring Summer 2013 Collection played with stylized floral cut-outs that seemed to fall and fragment into abstract patterns.
• Warm up this winter with Maria's deep blue Wool Socks.
• Maureen's Pendant is a piece of blue and white beach pottery, collected on the Northumberland coast of England.
• Vanessa's Porcelain Cups have a cobalt blue patten running across their top edges.
• Barbara's Soap Dish is made of stoneware clay that's been bisque fired and glazed to create a blue and white polkadot surface.
• Cheri's Beach Pottery Pendant has rounded edges and a pale blue and white design.
• Atrio's Earrings are small discs based on seventeenth century Coimbra pottery from Portugal.
• Little White Mouse's Fans in Blue is an original linoleum print that resembles a leaf, or perhaps peacock feathers.
• Caroline's Porcelain Bowls have a bamboo pattern and layers of brushstroke-like blue glaze.