Paint and petri dishes don't exactly spell out fragrant flowers, but we like to keep things interesting.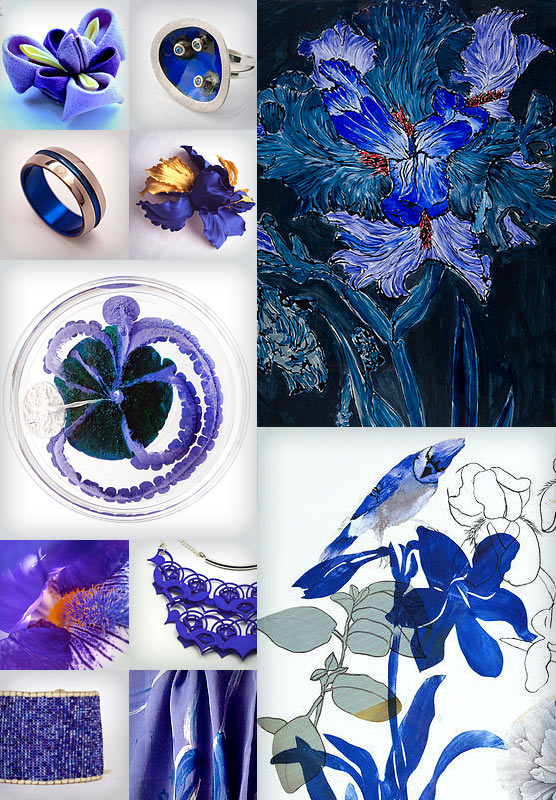 • Klari Reis' Sassy Starfish Playing Dress-Up is part of her series of petri dishes filled with specimens more fabulous and inventive than real life allows.
• Christian Brechneff's Blue Iris depicts the messenger goddess on the Greek island of Sifnos.
• Jennifer Bain's Pyramid is a still life collage inspired by her surroundings and the botanical illustrations of the 17th century artist Maria Sibylla Merian.
• Kanawa's Tsumami Kanzashi is a hair clip made of purple fabric folded in a design that dates back to the Edo period.
• Alex de Haro's Ring frames blue enamel, dotted with zircons, in sterling silver.
• Minter Richer's Ring is made of sleek titanium accented with electric blue.
• Elena Fom's Fascinator is an iris with blue and gold petals, like the Greek goddess in flight.
• C. Creativity's Bearded Iris looks inside the blue petals enveloping orange-tipped bristles in a near-abstract composition.
• Hanyin's Necklace suspends a stunning 3D printed design inspired by the structure of chain mail.
• Monika's Starry Night Cuff is a dense, shimmering field of blue beads on light brown leather.
• Gemma Clark's Scarf is organic bamboo silk hand-painted with a loose iris.