And all, even the color black,
Seemed polished, bright, iridescent,
Liquid enchased its own glory
In the crystallized rays of light.
– Charles Baudelaire, Rêve parisien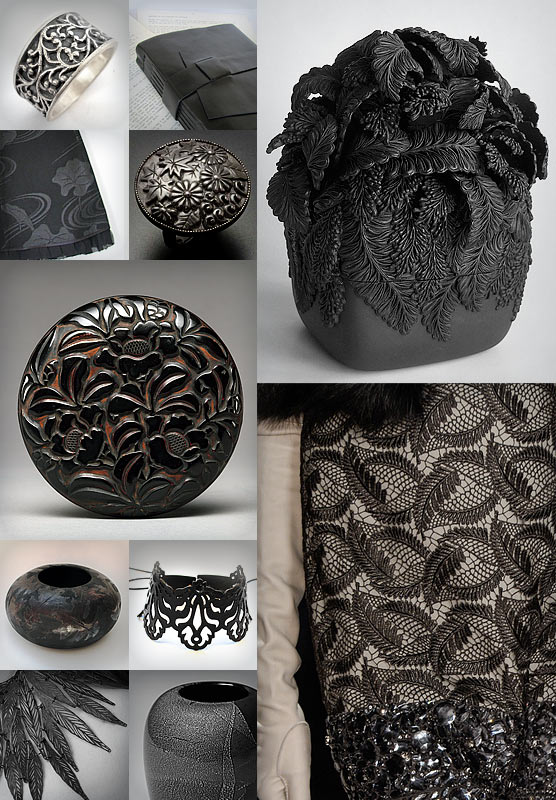 • Hitomi Hosono's Black Box is carved porcelain foliage that seems to grow out of the base, just as wisteria branches climb over many of London's whitewashed houses.
• The Vera Wang Fall 2013 Collection played with different textures within a black and white palette, combining black leafy lace, a fur cape, and sequined trim in one look.
• This Box is lusciously carved black lacquer that dates back to the Southern Song. The oily camellia blossoms and leaves are offset by hints of red-orange swirling between them.
• Hila Weiner's Ring has a sterling silver filigree design raised above an oxidized background.
• Vicki Sheehan's Journal has an elegantly folded black leather cover and the pages at each end are black with gold ginko leaves.
• Kristy Chivers' Skirt is made of vintage obi fabric with a subtle design of lotus leaves and rivers.
• Kazuhiko Ichikawa's Ring is made of sterling silver carved with autumn leaves and covered with a rich black patina.
• Laura Wilson's Vessel is raku fired with the imprint of leaves shimmering in a coppery glaze.
• Lydia Wall's Necklace is made of leather laser-cut into a falling leaf pattern.
• Inbar Shahak's Necklace combines black metal lace leaves into a striking wing.
• John Almaguer's Vase is hand blown glass inlaid with real silver leaf that forms an abstract, crackling pattern.