Our selection of nests expands on the usual mix of twigs and feathers with metal, porcelain, and paper.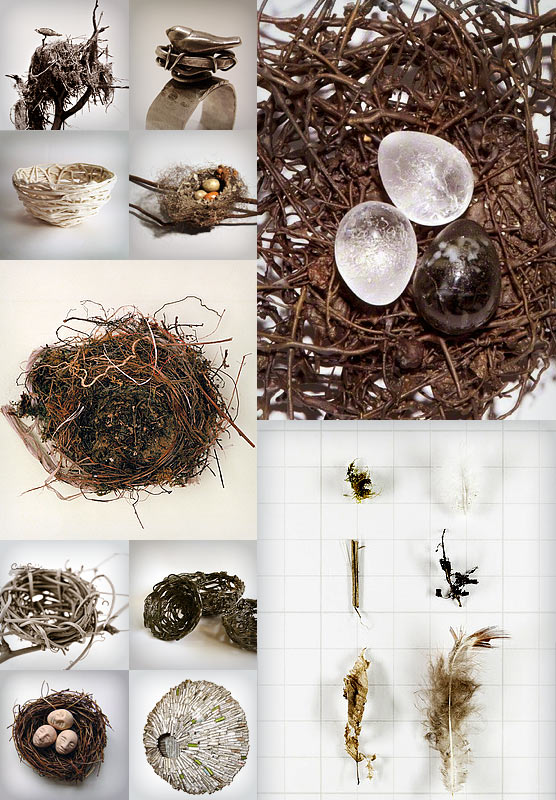 • Bianca Tuckwell's The Growth That Is Our Own Cradle documents abandoned bird's nests in the English countryside. Side by side, you can see how each nest is a unique, delicate construction of hundreds of leaves, twigs, and other materials. For this Blackbird's Nest, she categorized the ingredients against a grid.
• Bale Creek Allen's Nest is made of bronze twigs and crackled glass eggs.
• Scott Wurzel's captured this Osprey Nest on one of the dead cypress trees of Honeymoon Island.
• Rebecca & Scott's Ring is hand carved in wax and cast in sterling silver, topped with a bird sitting in its nest.
• L'Officina's Bowl is a nest made of wool threads dipped in porcelain paperclay.
• The Ceremonial Home's Bebibeddo is an indestructible nest that rests three concrete eggs on a branch of iron.
• Corinne's Bird Nest is a closeup of intertwining branches.
• Golem Designs' Bowls are ceramic nests covered with a black metallic glaze.
• Eva Clarke's Sleeping is a nest that holds three ceramic heads.
• CeeBee's Bird Nest Bianco is made from rolled up pieces of fashion magazines.