In the waning light the very sky seemed inclined to weep, shedding a hint of rain while Genji in his glory, decked with chrysanthemums now faded to the loveliest of shades, again displayed the marvels of his skill. His closing steps sent a shiver through the gathering, who could not imagine what they saw to be of this world. Among the undiscerning multitude sheltered beneath the trees, hidden among the rocks, or buried among fallen leaves on the mountainside, those with eyes to see shed tears.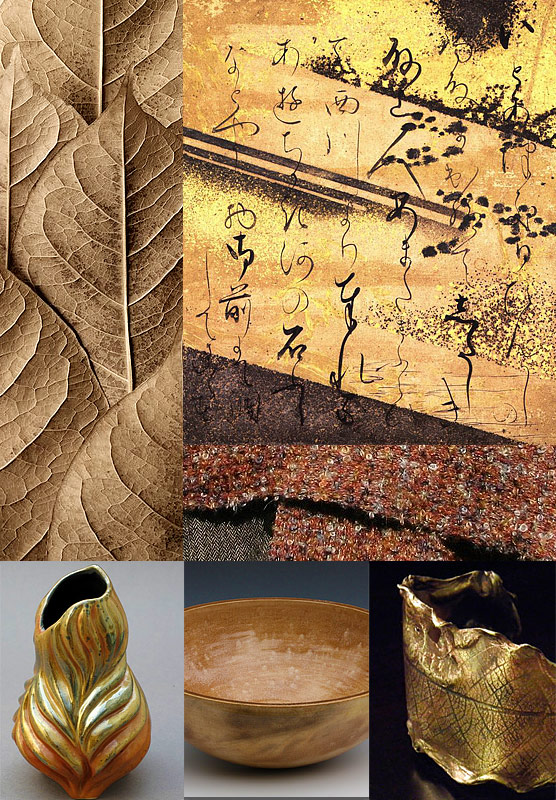 • Tosa Mitsuyoshi sets in motion chapter ten of the Tale of Genji, "Beneath the Autumn Leaves." The animated brushstrokes reflect how exchanges of poetry propel the events of the story forward.
• Jeff Friesen's Falling Leaves captures the veined surface of dry leaves as expanses of parched earth.
• Ieva's Loop Shawl blends wool and mohair in the rusty colors of fall.
• Roberta's Leaf Vase is carved from porcelain and covered with a shino glaze that gives it a mottled orange and gold finish.
• Marty's Autumn Leaves Bowl has a light pattern of oak leaves along its rim.
• Jen's Leaf Cuff recreates the intricate veins and uneven edges of a leaf in solid brass.