Before we get to the shore, let's get our kicks on Route 66.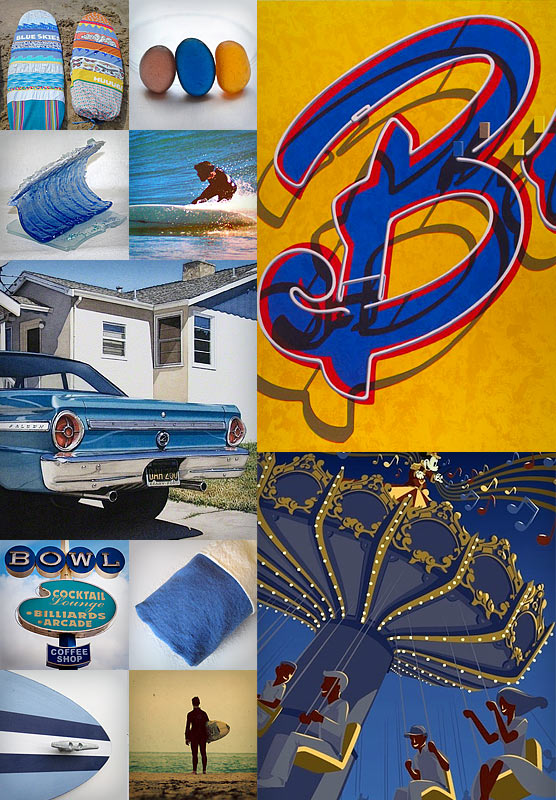 • Robert Cottingham's American Alphabet draws on the legacies of Edward Hopper, Andy Warhol, and Walker Evans to take a close, photorealist look at Americana. He takes each letter out of its original message and reveals a whole other alphabet of diverse shapes, shadows, and colors that constitute the world of signage.
• Mark Goings' Mike's '66 Falcon depicts the sleek, fluid surface in watercolor. He crystallizes a snapshot of ordinary life so that the blue sky, white walls, and sharp shadows seem too real, too perfect, and turn into a suburban fantasy.
• Annie Prangs' Surf Bags are made of vintage and recycled fabrics in a colorful stripe pattern that's tailored to your preferences.
• Karen's Sea Glass pieces are collected on the coastal beaches of North East England. This particular trio consists of translucent plum, blue, and golden colors.
• Kyle Goodwin's Wave Sculpture suspends the crest in glass through a process of sand-carving and heating.
• Matthew Allen's Hull, part of his Borrowed Light series, captures a surfer riding a wave that transitions from blazing orange to cool blue.
• Stefanie's Surf Bowl captures a classic vintage sign in Oceanside, California.
• Choisette's Sloane Towel is made of pure linen that's absorbent, dries fast, and doesn't stick to sand – perfect for a day at the beach.
• Colleen Gardner's Coat Rack is made of a wood surfboard painted with blue and white stripes.
• Melanie's Summertime Shorelines is a set of four photographs that depict California beach snapshots with a vintage tint.