We've already talked about Delftware in a pervious post, but how could we resist revisiting the blue and white again? Here are a few more Delftware-inspired selections that bend tradition a little bit.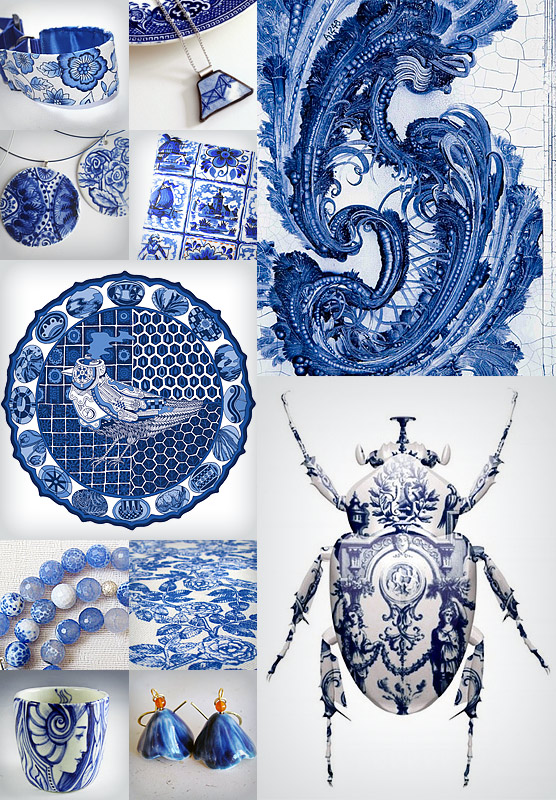 • Magnus Gjoen's Delft Beetle gives oddly appropriate armor to the regal dung beetle.
• Ying Wu's Bird & City series put a surreal, dystopian spin on Delftware patterns with birds made of mechanical parts and industrial cities sinking into bird feathers.
• Douglas Walker's A-248 is a lush jungle of plumes and beads with a crackled surface reminiscent of Delftware.
• Niki's Collar has a blue floral print and satin lining perfect for Italian greyhounds.
• Juliet Ames' Pendant is a recycled piece of blue china wrapped in black silver solder and suspended from a fine silver chain.
• Harriet Damave's Pendant is made of porcelain hand-painted in the traditional Delftware technique using cobalt oxide.
• Monique Rhuggenaath's iPad Sleeve is made from padded fabric with a pattern of Delftware tiles and an orange ribbon attached to the zipper.
• Mirjam's Necklace is made of faceted quartz balls in blue and white.
• Sera's Apron has a pattern of blue roses printed using eco-friendly dyes on white cotton.
• Pam Stern's Cup has three women's faces painted in cobalt blue underglaze.
• Micha Klann's Earrings are made of blue porcelain flowers hanging with a orange carneol bead at their base.