If you've ever scavenged beaches for amber the day after a storm (we have), you know how satisfying it is to come home with a handful of treasure. We wanted to recreate that rich spectrum of brown and yellow with a few golden selections.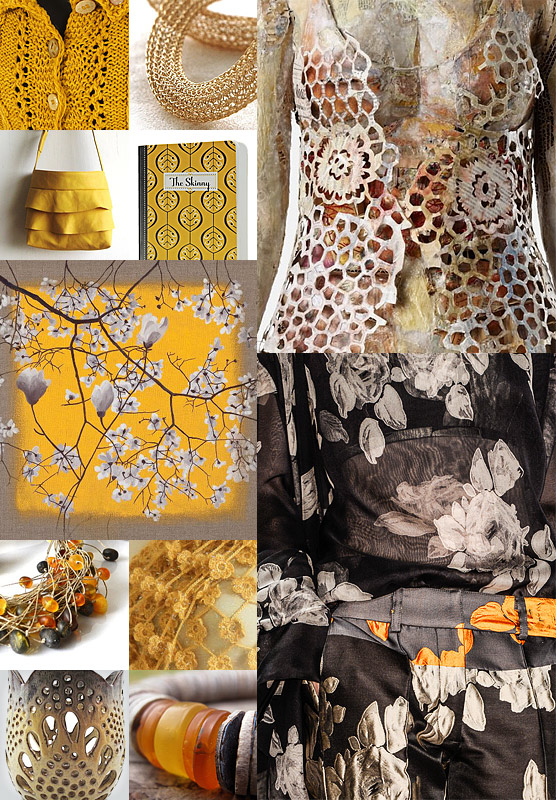 • Astrid Preston's Magnolia Blossoms are scattered on branches that extend over natural linen framing a yellow square. She hints at a convergence of East and West landscape painting traditions. The linen and yellow form a kind of window, like Renaissance paintings that invite you into another world like your own. But the blossoms deny that depth much like the folding screens of the yamato-e period have lush gardens sprawling over a gold background.
• Vally Nomidou's Life-size Sculptures are made of pressed paper and flowers,  reminiscent of Dega's three dimensional dancers with their ready-to-wear tutus.
• The Vera Wang Fall 2013 Collection featured rose prints on sheer charcoal fabric, accented with pops of tangerine.
• Sabine Masalska's Cardigan is hand-knit in an intricate cable pattern from golden yellow wool.
• Yael Falk's Necklace is crocheted using gold filled wire.
• Ruthy's Bag is covered with yellow faux leather ruffles on both sides.
• Ami's Notebook fits in your pocket ready for flashes of inspiration.
• Karuba's Necklace is made of bits of unpolished Baltic amber nestled among natural fibers.
• Sevim Modelci's Shawl is a crocheted network of caramel-yellow blooms.
• Ning's Candle Holder is made of stoneware that's been hand-carved into a tulip shape and lace-like pattern.
• Danuta and Joanna's Necklace suspends rainbow shells and pieces of golden amber from linen sailor's rope.