These bows and bow ties are more for the flamboyant dandy, not the wallflower.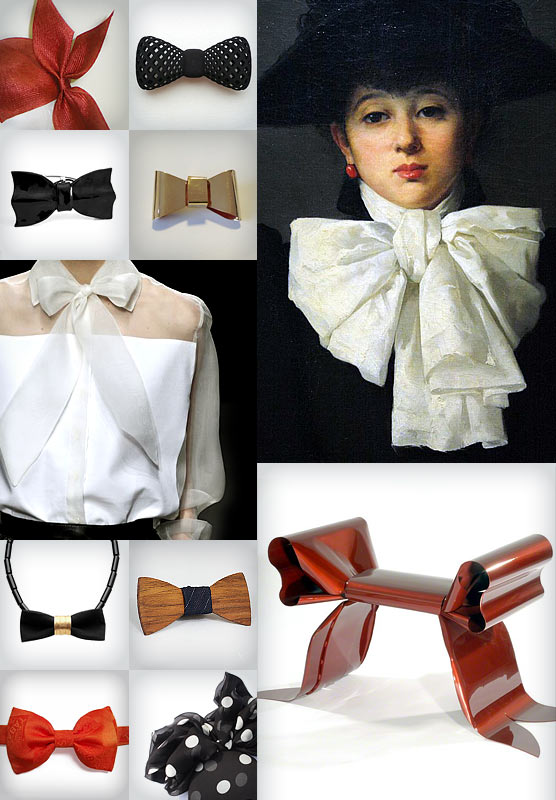 • Anna Bilińska's Portrait of a Young Girl depicts her with a creamy white bow tied around her neck, almost like an extravagant present. The bow does all the talking. Her eyes gaze passively, or pensively, to the side.
• This Valentino Blouse, with its sheer sleeves, and leather skirt is the perfect balance of prim and edgy.
• Maria Pergay's Ribbon Pouf makes stainless steel look like soft folds of fabric.
• Biliana Borissova's Fascinator is a flamboyant side bow made of cherry red stiffened straw.
• This Bow by Monocircus is 3D printed in plastic with a lattice pattern.
• Leanne's Necklace suspends a ceramic black bow – no tying necessary.
• Pink Iguana Co.'s Bow is neatly folded from brass.
• Bethany's Bow Necklace is a sophisticated combination of lucite beads, black cotton, and gold leather inspired by African dandies, the Sapeurs.
• The Fredrick by Two Guys Bowties is made of rosewood and striped suit fabric.
• The Tabasco Bowtie by Dandy's Bow Ties is made of flaming orange silk woven with a tabasco sauce logo.
• Ann Marie Faulkner's Bibi is a mini beret finished with a playful polkadot silk chiffon bow.